Detroit is the home of one of my new favorite places to have a beer. On Woodward and in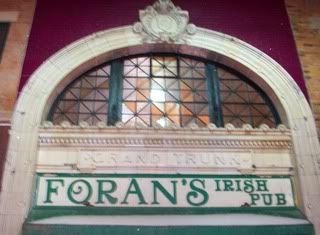 the shadows of Campus Martius lies Foran's Irish Pub, and it is not your typical Irish pub. You can still have a pint of Guinness, but you can also get a some of the best beer Michigan has to offer. Foran's not only serves beer from bigger breweries like Bells and Founders but also Shorts, Jolly Pumpkin, Arcadia, King, Arbor, Motor City, and Dark Horse… and that's just what's on draft. Beer from eleven Michigan breweries are available at Foran's, truly representing some of the best Michigan has to offer.
But Foran's dedication to local products doesn't end there. They serve classic Detroit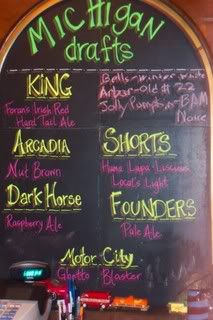 products like Faygo pop in original glass bottles, and Better Made potato chips. They call their food "Gourmet Pub Grub" and they back that statement up by using bread made at Avalon Organic Bakery in Detroit. If you are into great bread I believe there is no better bakery in SE Michigan than Avalon. Foran's meats and produce are bought at Eastern Market in Detroit. In addition to all this, they top off their dishes with home-made sauces, dressings and Stout-Kraut. Next time I am there I will definitely try the Reuben. Once again, I got the Olive Burger which I can't help but order. The bun is actually Avalon's Greektown Olive bread. They also add grilled Greektown olives. Foran's Irish Pub goes all out to support other local businesses and the end result is an enjoyable unique dining experience.
On Friday, we went up to Milan with Rob on Friday we met up with his wife Jen at the
Pickle Barrel Inn in Willis. To our surprise, they had Arcadia London Porter and New Holland Lucid. Great choices for 2 beers to have on tap. Porter for the ale drinkers and Lucid which is a Kolsch is still an ale but it is considered an hybrid and anyone who prefers lagers would enjoy a kolsch. Since Rob and I both had a ride home we decided to have one more Porter.
I imagine it is hard for a restraurant like Foran's to pull off this kind of menu. But the little things like putting two Michigan beers on tap like the Pickle Inn does, matters so much.