The Monroe City Brewery was short lived but it had one unique thing that the other Monroe breweries didn't have. The owner/brewery wasn't German. He was born in Ireland. Brewers in early America were from English speaking nations and brewed Ales. Whiskey was popular in both America and Ireland in the early 1800s and many Irish immigrants made whiskey. Toward the middle of the 19th century German immigration  changed the face of brewing and drink in America and turned America into a lager drinking nation. One might wonder though why weren't more Irish brewers popping up in the United States? After all, Irish immigration was high. We've all heard the stories of Irish peasants leaving Ireland due to the Potato Famine. Maybe that is one of the main reasons right there. Perhaps Irish immigrants were too financially strapped to open their own business upon settling in America. On the other hand, most Germans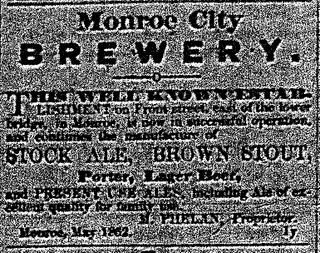 immigrated to the United States for political and religious reasons. The latter was true especially for German Catholics. Another factor that could have contributed to German brewers  outnumbering their Irish counterparts was the sheer number of German immigrants. German immigration doubled to around 950 thousand between 1851-1860 surpassing Irish immigration. While Irish immigration leveled off, German immigration peaked between 1871-1880 reaching almost 1.5 million people.
All of the Monroe breweries I could find were owned by people of German descent. One exception to this was Michael Phelan, owner of the Monroe City Brewery. I couldn't find out much about Michael other than the fact that his brewery stood on the north-side of Front Street and east of the lower bridge.  I believe it would've been somewhere near the intersection of Wadsworth and Front. Phelan ran his brewery during  the onset of a German brewery boom.  
Sometime between 1863 and 1870 Phelan got out of the brewing business and by 1870 he was working as a surveyor/engineer.
He brewed a Stock Ale, Brown Stout, Porter and "Present Use Ales". He also brewed lagers. I attached an ad from 1863 which shows that, yes, back then beers were brewed for family use. Porters and brown stouts were styles that an Irish immigrant would have brewed. The interesting one there is the "Present Use Ales". This beer is an ale version of a lager and today is considered  a Cream Ale which is a Light Hybrid Beer. In the 19th century this was an ale brewer's answer to the lager and was basically an American Lager with a top fermenting(ale) yeast strain. Phelan must have been hedging his bets because the ad claims he brewed both "Present Use Ales" and Lagers.
Phelan died in 1909 in Chicago. I believe after Michael left brewing that the brewery itself became Van Miller Brewing. I'm still working on some definitive information on that one. One thing that is for sure –  that along OBrien Street with Wahl Brewing Co. and Laplaisance's Roeder Brewery, Front and Wadsworth was another location that had a brewery.
Monroe had many other breweries in the mid 19th century and I still plan on digging for more stories. Here are a couple of teasers for you: A Monroe born brewer who opens his own brewery in another town?and of course (dum dum dum!) another brewery fire!