I came across this photo today on metromode and was inspired to blog about. Isn't it beautiful? It's an image of the Mug Club member mugs which hang over the bar at the Corner Brewery in Ypsilanti. Each one is hand thrown, personlized with it's owners name and glazed in lovely deep earthy blue and brown hues.  Our very own MIBeerBuzz blogger John Nasers and his wife Michelle have their own Corner mugs and each time I watch them sip beer from it I'm envious.  I don't have one of my own yet and I'm not really sure why because, if you've ever drank beer from a hand-made ceramic mug like that you'll know there's nothing in the world like it.  Maybe it's the fact that it's slightly heavier  in your hand. Or the way the handle fits snugly in your clenched fish. Or maybe it's the coolness of the pottery as the edge of it your lips. Or maybe it's because you feel like your traveling back in time, imagining that this is the type of mug that the founding fathers drank ale out of as they sat in Boston pubs and plotted the American Revolution…  Of course it also holds more beer than your average pint glass.  That's always a plus. 
Another place with great member mugs is Dark Horse Brewing Company in Marshall. In this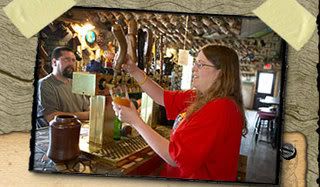 picture that I snagged from the Dark Horse website you can also see their mugs hanging from the ceiling above the bar . Although the photo doesn't really do them justice, the mugs at Dark Horse are amazing. Each one is hand crafted and, although they aren't personalized with your name, no two are alike. The nice thing about Dark Horse is that you can purchase a mug even if you don't join their mug club. Although I don't know why you wouldn't want to join because, from what I've heard, you pay one fee for a lifetime membership which gets you discounts on drinks and lots of other good stuff.  The last time we were at Dark Horse we were told there was a waiting list to buy a mug.  However, it seems that the wait would be well worth it. Can you believe it? I don't have one from Dark Horse either!
Kevin and I have decided that if we open a brewery one day, we'll hire Rob's wife Jen (who is taking pottery classes at Henry Ford Community College) to make the mugs for brewery. We want ours to have built in whistles so that you can just whistle in to it to let the bartender know that you're ready for another. Legend has it  there used to be mugs out there that were actually made like this and that is where the term "Wet your whistle" comes from. However, I've done a little unofficial online research of this claim and it turns out that it's probably not true. (Stupid Internet spoilers…always ruining our fun with the Truth.) But wouldn't it be neat if you could make something like this?  Jen better start working on it now so that she can master the design by the time we  open that brewery!
Does anyone else out there have a cool and unique mug at your favorite brewery? If so, send me a picture and I'll  post it here on Michigan Beer Buzz.