On Friday, I heard a short news clip on NPR about a man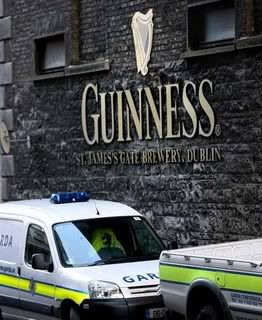 who drove into the Guinness Brewery in Dublin, hitched up a trailer, loaded 450 kegs and then drove away before security realized what happened. The theft was captured by security cameras and the man was caught.
The best part of the story (or saddest, depending on how you look at it) is that when police seized the trailer  it wasn't just full of Guinness. In fact, it was carrying only 180 kegs of of the signature stout. The rest of the loot consisted of 180 kegs of Budweiser and 90 kegs of Carlsberg (a Danish lager).  
I guess Luna Pier Cook was right (check out his post on The Decline of Guinness) Looks like the beer tastes of the Irish are changing. Even for thieves.