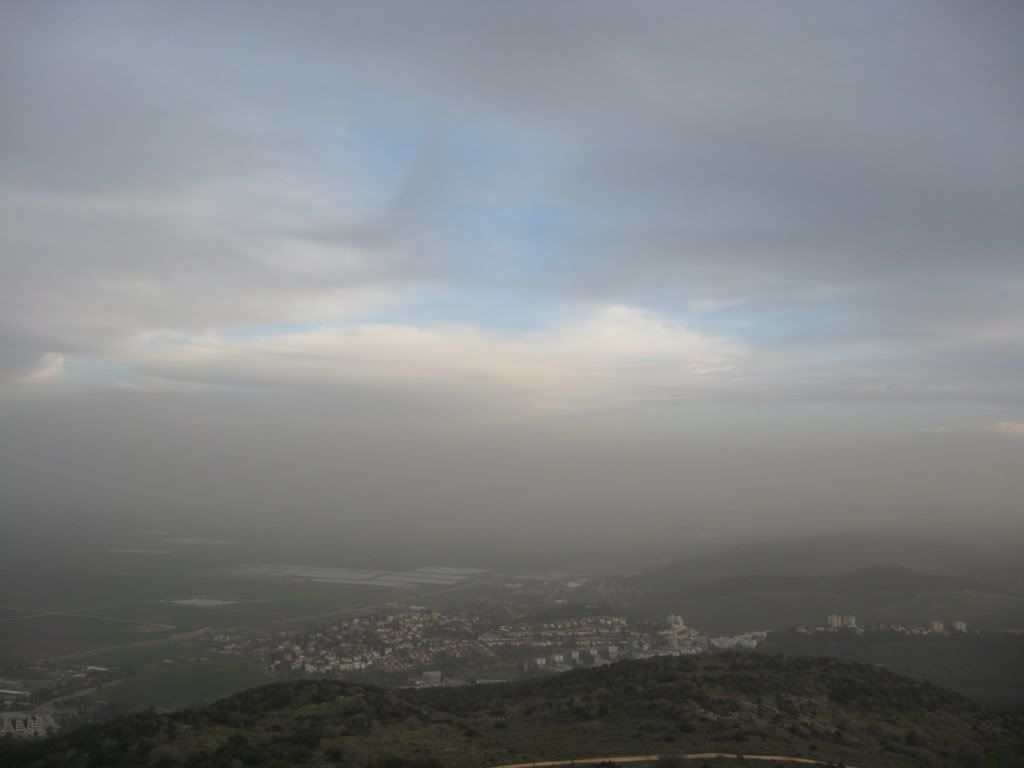 (I took this picture of the Valley of Armageddon from the top of Mount Carmel, in northern Israel.) 
The sexual abstinence club at Harvard University is called True Love Revolution (TLR).  Here is their FAQ page, in its entirety. Show this to anyone who's wondering why it would be rational to wait until marriage to have sex.
How will abstinence affect my relationships?
Saving sex for marriage can help your current relationships since it shows commitment, builds trust, and fosters respect. Sex outside of marriage often blurs the distinction between infatuation and lasting love, resulting in feelings of loss, pain and betrayal after breakups. Abstinence enables couples to develop a strong personal relationship that is centered on the whole person, which promotes better communication between partners. People who abstain from sexual activity do not have to worry about STIs, unplanned pregnancies, or the possibility that their partner is "just in it for the sex." Saving sex for marriage lowers your chances of divorce1 and marital infidelity2 while enabling better sex in your future marriage,3 free from regrets and unwanted memories of past sexual experiences.
Isn't abstinence boring and repressive?
No! Abstinence is what you make of it. By not engaging in sex, abstinent couples seek out and discover fun and creative ways to express love and intimacy. Kissing, hugging, and cuddling can be even more meaningful when they are manifestations of love and not just foreplay. This helps couples build deeply personal, exciting and respectful relationships that are great preparations for marriage and healthy in the meantime.
But with birth control and condoms, aren't I safe from pregnancy and STIs?
Even the most effective methods of birth control can fail, especially when they are employed imperfectly, which is often the case.4 Abstinence is therefore the only 100% effective way to avoid pregnancy.
Despite dramatic increases in condom usage since 1980, Herpes Type 2 (genital) increased 500% during that time span: 20% of Americans over the age of 12 test positive.5 Condoms work best (though still imperfectly) against HIV, but they are almost completely ineffective against HPV (Human Papillomavirus), which is the new epidemic STI among young adults.6 HPV is highly contagious: 46% of young, sexually active women acquire HPV from their first sexual relationship.7 Most cases of HPV are innocuous and will go away without outside intervention, but some strains cause cervical cancer and genital warts. HPV causes 99.7% of all cervical cancer cases, which kills 3,700 women in the United States and 288,000 women globally per year.8 There is now a vaccine available which is effective at preventing the strains of HPV that are responsible for about 70% of cervical cancer cases, although it is ineffective against other cancer-causing strains.9
There are numerous other lesser-known STIs that condoms are largely ineffective against,10 but the point is already clear: "safe sex" is not safe. Saving sex for marriage with a single partner who is trustworthy and disease-free is the only way to avoid serious risks of contracting a variety of dangerous diseases.
Aren't people who have sex before marriage happier than people who can't get any?
Actually, premarital sexual behavior has the potential to negatively affect your emotional and mental health. Early sexual activity and having multiple sexual partners is strongly associated with increased depression,11 greater likelihood of maternal poverty, and higher rates of marital infidelity and divorce in future marriages.12 Sexual activity in both men and women involves the release of powerful bonding hormones that are designed to help married couples stay together permanently and trust each other.13 Within marriage, these bonds are a cause of joy and marital harmony; but for non-married couples, such bonds can cause serious problems. When these relationships come to an end, the partners often feel a palpable sense of loss, betrayed trust, and unwelcome memories. This is information that you will rarely hear from sexual health groups that promote safe sex, because "there is no condom for the heart."14
How do you draw the line? Why is sexual intercourse so special?
TLR is not concerned with drawing specific boundaries or proclaiming rules. While our arguments focus primarily on sexual intercourse, many of the reasons to save sexual intercourse for marriage also apply for other kinds of sexual intimacy. The intense emotional bonding associated with sexual intercourse also results from any sort of mutual sexual activity that culminates in an orgasm. The probability of contracting STIs is even higher from anal sex than it is from vaginal intercourse,15 and oral sex and other sexual activities still involve widely-underestimated risks.16 Rather than offering a set of rules, we propose some principles and information that can be used to make intelligent, healthy, and morally sound choices about all sex-related decisions in relationships, not just those relating to intercourse.
What if I have already had sex? Isn't it too late?
It is never too late to recommit yourself to waiting for your future spouse! Just because you have had sex in past relationships does not mean that you have to do the same in the future. Likewise, even if you and your partner have already started having sex, the relationship does not need to remain sexual. With good communication and mutual commitment, couples can work together to make abstinence a positive aspect of their relationship.
---
1 Tim Heaton, "Factors Contributing to Increasing Marital Stability in the United States," Journal of Family Issues 23 (2002); J. Kahn and K. London, "Premarital Sex and the Risk of Divorce," Journal of Marriage and the Family 53 (1991).
2 R. Forste and K. Tanfer, "Sexual Exclusivity among Dating, Cohabiting, and Married Women," Journal of Marriage and the Family 58 (1996).
3 S. Stanley and H. Markman, Marriage in the 90s: A Nationwide Random Phone Survey (Denver: PREP, Inc., 1997).
4 Food and Drug Administration, "Consumer-Friendly Birth Control Information"; Haishan Fu, et al., "Contraceptive Failure Rates: New Estimates from the 1995 National Survey of Family Growth," Family Planning Perspectives 31 (1999).
5 Cited in Meg Meeker, Epidemic (Washington, D.C.: Lifeline Press, 2004).
6 Lisa Manhart and Laura Koutsky, "Do Condoms Prevent Genital HPV Infection, External Genital Warts, or Cervical Neoplasia?" Sexually Transmitted Diseases 29 (2002); The science is so clear on the ineffectiveness of condoms in preventing HPV that Dr. Richard Klausner, former director of the National Cancer Institute, stated that "additional research efforts by NCI on the effectiveness of condoms in preventing HPV transmission are not warranted." Quote in Mariam Grossman, Unprotected (New York: Penguin, 2006), pp. 159.
7 Collins et al., "High Incidence of Cervical Human Papillomavirus Infection in Women During their First Sexual Relationship," BJOG: an International Journal of Obstetrics and Gynecology 109 (2002).
8 International Agency for Research on Cancer, World Health Organization, "Cervical Cancer," 2006; CDC, "HPV Vaccine."
9 CDC, id.
10 National Institute of Allergy and Infectious Disease, National Institute of Health, "Workshop Summary: Scientific Evidence on Condom Effectiveness for STD Prevention," 2001.
11 Robert Rector, Kirk Johnson, and Lauren Noyes, "Sexually Active Teenagers Are More Likely to Be Depressed and to Attempt Suicide," Heritage Center for Data Analysis, 2003; Denise Hallfors et al., "Which Comes First in Adolescence – Sex and Drugs or Depression?" American Journal of Preventive Medicine 29 (2005); Denise Hallfors et al., "Adolescent Depression and Suicide Risk: Association with Sex and Drug Behavior," American Journal of Preventive Medicine 27 (2004); K. Joyner and R. Udry, "You Don't Bring Me Anything but Down: Adolescent Romance and Depression," Journal of Health and Social Behavior 41 (2000).
12 Robert Rector et al., "The Harmful Effects of Early Sexual Activity and Multiple Sexual Partners among Women: A Book of Charts," Heritage Foundation (2003).
13 Larry Young and Zuoxin Wang, "The Neurobiology of Pair Bonding," Nature Neuroscience 7 (2004); Michael Kosfeld et al., "Oxytocin Increases Trust in Humans," Nature 435 (2005).
14 Phrase borrowed from the Medical Institute for Sexual Health.
15 D. Halperin, "Heterosexual Anal Intercourse: Prevalence, Cultural Factors, and HIV Infection and Other Health Risks," AIDS Patient Care STDs (1999); Eric Vittinghoff et al., "Per-Contact Risk of Human Immunodeficiency Virus Transmission between Male Sexual Partners," American Journal of Epidemiology 150 (1999).
16 Lisa Remez, "Oral Sex among Adolescents: Is It Sex or Is It Abstinence?" Family Planning Perspectives 32 (2000); The Medical Institute, "Medically Speaking: Oral Sex and STDs," Sexual Health Update (Spring 2003).