Nov 16 2008
Last weekend, I attended the "Writers on the River" event at Ellis Library in Monroe.  Each year, the Monroe County Library System hosts a group of writers with books of local interest.  And a handful of these writers usually offers work related to Michigan and its outdoors.
Before I go any further, I have to say that I am an outdoor and travel book junkie.  I scour local book sales for anything and everything related to Michigan, the Great Lakes and the Midwest.  And I often scan these books over the years enough to get a feel for some of the writers.
During past "Writers on the River" sessions, I have had the wonderful opportunity to meet Mary Hunt, who wrote what I believe is still the best guidebook on this state, Hunt's Guide to Michigan.  I have also met Tom Powers, a man who wrote several volumes dedicated to Michigan state parks and natural areas.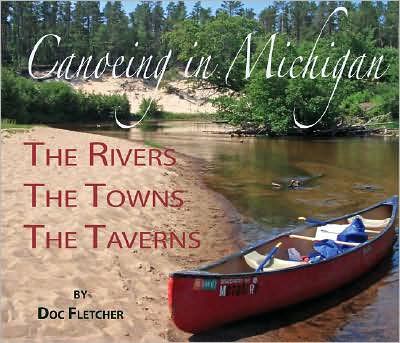 During this session, I was able to chat with Doc Fletcher.  Doc is a former employee at Duracell.  He developed a great love for canoeing and began to search the state for great flatwater adventures.  Along the way, he experienced the delightful culture of Michigan's small towns and taverns.
These experiences became the basis for his new book, Weekend Canoeing in Michigan.
Now I have to say that Doc is on to something.  For many years, Michigan's flatwater paddlers relied on several books that were long out of print for information.  Wes Boyd, the legendary newspaper editor in Hudson and an avid kayaker, even scanned an old out-of-print tome onto his now-defunct website, Kayakplace.
This situation has been eased a bit by a couple of new books in the past few years.  But this still leaves many rivers unexplored in print.  Doc Fletcher begins to fill this void in a humorous, but informative way.  Fletcher has a touch of Bill Bryson in him and adds local color to each river's narrative.
During our conversation, Doc described his love for Northern Michigan rivers like the Pere-Marquette and Little Manistee.  The Little Manistee was a particular challenge, given its swift current, steep elevation loss and tight curves.   
He also described some new journeys that he has taken along the River Raisin and Rouge River.  These are rivers within an armslength reach of millions of Michiganders, but they get no attention because of their location inside Michigan's population centers.  Both rivers will be topics for a second volume of new river stories that is scheduled for print in February of 2009.
Here is a short biography of Doc Fletcher from booktour.com:
Doc Fletcher was born Jeffrey Marc Fletcher in Detroit, Michigan in 1954. He moved with his family to Lambertville, Michigan in 1967, graduating in 1972 from Bedford High School – GO MULES! Doc is a proud Eastern Michigan University Huron, where he fell in love with his future bride before graduating from the University in 1976 with a Bachelor's degree in Marketing. Doc took his first canoe trip in 1978 on the Pere Marquette River and ever since then gets back into a canoe whenever possible. He enjoyed a rewarding 30 year career as an account executive with the folks at Duracell, the battery company, from 1976-2006.
http://www.booktour.com/author/doc_fletcher
Click below for more information and ways to purchase Doc's book:
http://search.barnesandnoble.com/Weekend-Canoeing-in-Michigan/Fletcher-Doc/e/9781933926094/?itm=2
http://www.amazon.com/Weekend-Canoeing-Michigan-Rivers-Taverns/dp/1933926090%3FSubscriptionId%3D13DX9SSZNT4MP1351CR2%26tag%3Dbook0052-20%26linkCode%3Dxm2%26camp%3D2025%26creative%3D165953%26creativeASIN%3D1933926090
Note: The youtube video and cover shots above come from Arbutus Press.
Leave a Reply