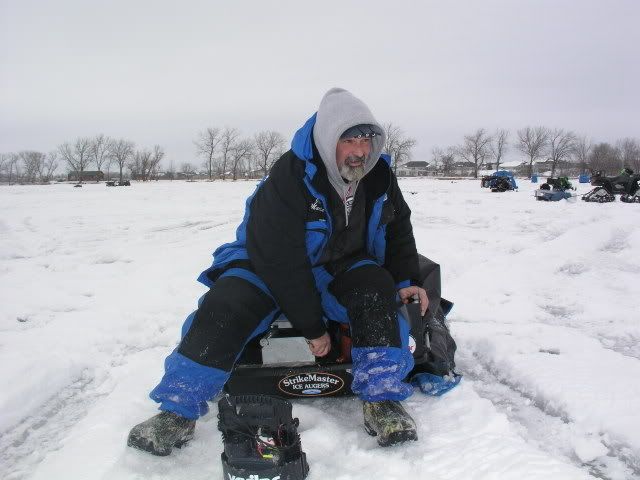 Going to wrap up the pics from the championships and get into some specifics in the gear used in the upcoming days.  Some will be about the companies, and backgrounds, but most will center around the gear itself, and more how to stuff.
That is Jim Martin from Brooklyn, Michigan fishing out of his Fish Trap Scout.  Besides the shanty if you look closely he is fishing with a Vexilar flasher.  Clipped onto his Knutson's cap is a 3 LED light.  This style comes in handy for seeing during low light conditions and is easily turned on and off by the touch of a finger.  Most commonly found brand in the stores is the "Cat Eyes" brand.
The next picture is of Dave Genz sitting on the newest model to hit the ice from Artic Cat in the BearCat lineup.  That is Jack Baker standing next to him, in previous years Jack has qualified to fish the championship with his 11 yr old daughter nicknamed " Boo ".  The widetrack turbo snowmobile has a custom made rack in the rear for elevating your portable shanty off the ice while traveling from spot to spot out on the ice.
Here is a pic of another angler who is showing off one of his crappies caught during the two day event.  Probably 80 percent of those fishing are wearing the Ice Armor suit from CLAM.  Most of the field has been fishing in them for three years or more and will be the first to tell you that it is an excellent suit designed for ice fishing.  Others like Genz above are wearing the newer insulated X series suit (gray/black).  Both are waterproof and keep the wind out.
This last picture is another one of the two Argos that were on the ice that weekend.  Although designed to keep you afloat in any circumstance, you still have to drag your shanties behind you while staying mobile.  In this picture the angler decided to keep the shanty hooked up and fish using his Vexilar outdoors.
Ok, that wraps up the pictures from the championship.  Will get back into the equipment for topics coming up in the next few weeks.  If the weather holds up in the Saginaw area, might head up there for a day, but will keep track of the ice down here as well.