The day started off with a promising forecast, six degrees and going up to 18′ and partly sunny skies.  Well it did get to 16′, but the sun never showed its face all day.  It actually felt warmer while waiting for the release time than it did at noon.  The moisture in the air was bone chilling.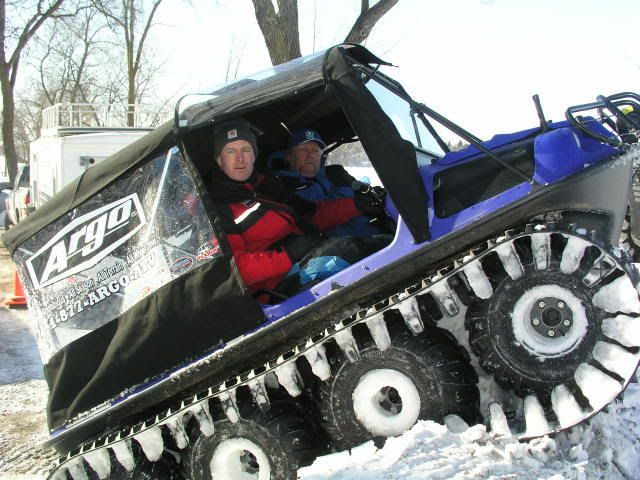 The times for fishing were from 8 am till 2 pm.  Inspections start about 7 am, and the teams were released at 7:30 am.  All manner of vehicles were used during the event. Trikes, quads, sleds and even an Argo.  For the past few years the company has sponsored a team or two at the events, talking about riding in style, complete with a heater.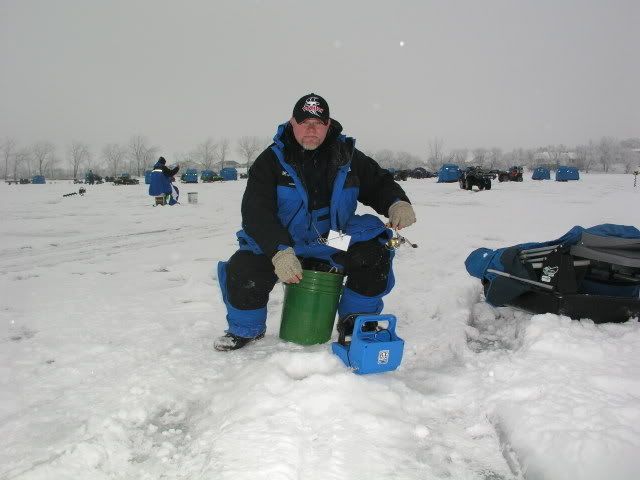 After being released the 2 man teams head out to areas that they have prefished and scouted during the week.  Once arriving, they are allowed to drill as many holes as they wish.  Use of a flasher or camera is allowed to see what lurks below and get set up for the official 8 am start.  When the alarm is sounded at eight, anglers can drop their lines and begin fishing.  Thats me in the picture above, and although it might look like it is early in the morning, thats really about noon.  I am stripping the line of the reel by hand to prevent it from coming off in bunches in the wind.  Normally this would not be neccessary with the weight of a walleye lure, but with panfish jigs it is a time saver compared to untangling a goo of line.
Wondering why I am sitting on a bucket and not snuggled in a shanty?  Although in the background, you will see a bunch of shacks pulled over,  mobility is the key.  Not only  in a tournament situation, but finding fish in general.  Some folks have a higher threshold when it comes to the cold, but if you look closely at the gear I am wearing,  I am actually well insulated against the elements.  Underneath the Ice Armor suit from CLAM, I have windstopper fleece on over a layer of silk that wicks away moisture from your skin and prevents chilling.  Before Kevin came over and snapped the shot, I had a fleece baclava pulled over the Vexilar hat to keep out the wind and protect my ears.  I wear fingerless wool gloves,  when grabbing the fish, I want to be able to squeeze and know I have a hold of the fish, which gloves really dont work for me too well.  When traveling I use a pair of gore-tex mitts to wear from pt. A to pt. B.  Mittens are much warmer than gloves. I wear polypropeline sock liners, with a wool blend sock over those.  Same theory as wearing the silk long johns, they wick away the moisture.  The combination allows you to wear just about any cold weather designed boot in total comfort.  Those boots are actually just Meijer specials I bought one hunting season on the way up north hunting when I realized about Ypsi that my good ones were back at the house.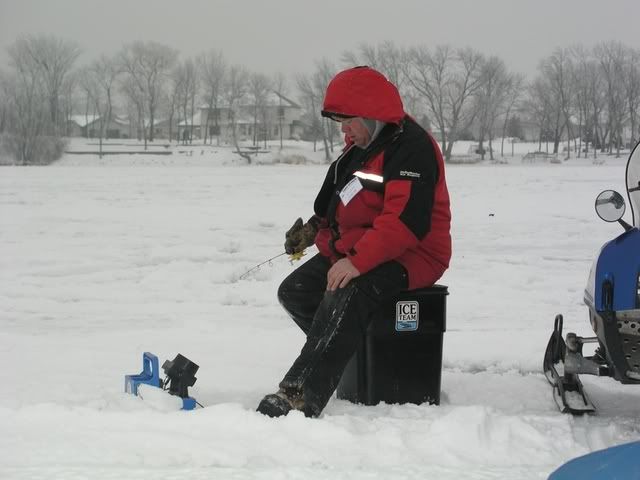 The flasher I am using is the new FL-20 that was introduced by Vexilar last season.  To save a few bucks I mounted it on the blue Genz Box that I already had.  The rod is a St. Croix Avid Ultra Light, 24 inch with a good UL Daiwa spinning reel.  In this picture, my tournament partner, Steve Webb is using the slightly older FL-18.  We both use the 12′ cone angle transducer, we both have expandable zoom at the bottom 6′ of the water column.  Difference is that the 20 can also expand to a 12′ zoom, and it has better interference rejection technology.  Interference comes when you have multiple anglers all using flashers in a close knit area, the machines kind of cancel each other out.  The rejection knob allows you to keep on fishing.  Steve is wearing similiar gear, except his suit is from the auger company, StrikeMaster.  He is a bit old school when it comes to his reel, a Schooley reel.  Which does hold up better against the line flying off the spool, and also in line twist reductions.  Like a fly reel in some cases, you have to use your palm to act as a drag when fighting bigger fish.  Both of us tightline in conjecture with using the flashers.  The flasher lets you know the fish is there, how close it is to  your lure, and when the line representing the fish closes on the lure, its time to start watching the line.
I will have more on Day 1 later.  Its fast approaching the Christmas crunch time, and things to do!