Just about everybody is familiar with the different types of horizontal  wire spreaders, and the combination of vertical perch and crappie rigs.  With the really good perch fishing continuing throughout the 2008 summer so far, here are a couple of options that some folks just aren't aware of.
Before getting to that, Matthew's Bait and Tackle is considering having a perch derby in August.  They are looking for input, and trying to gauge what kind of turnout they could possibly have.  So if you like perch fishing, stop by the shop, and tell the guys what you think about it.  If its run anywhere  near the way they had their walleye tourney last weekend, you will enjoy the experience.
In the last few years, a new trend has started to develop to landing more perch into the boat.  Use that ice gear, bring it out of its summer storage, and take advantage of a better way to catch these tasty cousins of the walleye.  Really its not something totally new, but it is catching more every year.  It all started with the Hali Jig, which really isn't a jig.  Its more of a spoon, with a short length of gold chain with a hook at the end.
You have probably noticed by now, I like to tinker and make my own lures.  Some of the next few items are things you can buy off the shelf (if you can find ice gear this time of year), while others require some tweaking.  Either way, you will catch more fish than those older types of spreaders and rigs, even with a lesser of hooks in the water.
In this application, I use jigs and spoons available from Northland Tackle .  They offer styles and colors not available from other manufactures,  and the sizes are perfect for perch fishing on Lake Erie.
They already make a walleye type bait that can be called a hybrid,  the Buck-Shot Rattle Spoon Dropper.
I like a slightly smaller hook for perch fishing, so I would replace the dropper section with a hook in a size 8 or 6.  If you like, you can just buy the Buck Shot Spoon, and make your own dropper with the hook of your choosing.  There are a few more color choices this way. Just remove the treble.
Now,  if you are crazy about rattles, you can also use the Forage Minnow Spoon.
You might not like droppers, and that's fine.  Both the Buck-Shot and Forage Minnow Spoons come in sizes small enough to entice any perch into biting.  You can also use this Doodle Bug Spoon in one of the effective Super-Glo colors they come in.  I like Bubblegum and Lemon.
If you like to have some weight to your dropper, that can be achieved too.  Instead of using a hook at the end of the dropper line, use a jig.  The Forage Minnow Fry, Bro Bug and Spider Ant jigs work very well at the bottom of the rig.
If you want to skip the whole spoon experience, that's ok too.  Northland makes jigs small enough to catch perch, but heavy enough to reach Erie's Bottom.  The Fire-Eye Minnow is a favorite of mine,  and for a lil' more pizazz tie on a Forage Minnow Jig,  and for bright glows, try the Doodle Bug Jig.
All these rigs can be used with shiners, minnow heads, spikes or wax worms as bait.  Most of the time, you will not even need bait if you are rigging with the Spider Ants.  Some of the plastics available from Little Atom are perfect for this application.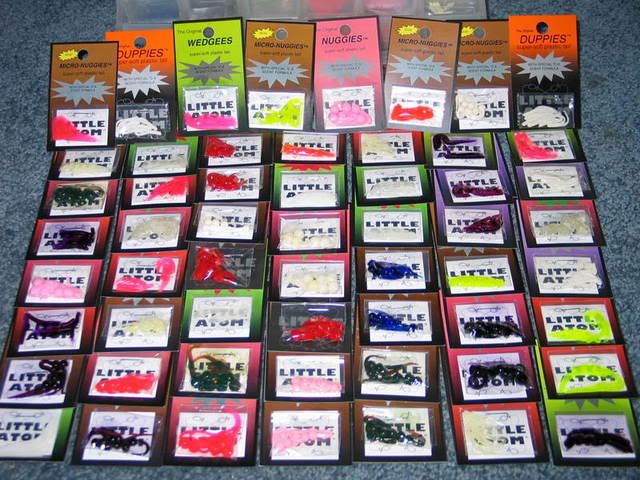 Will talk more about perch fishing as the week progresses.