It was a rough start to a great day that ended with a full stomach and some stormy weather.
The morning started out overcast and a bit choppy with 4 footers on the lake.  When we got to our spot, the first fish came in at 5 lbs.  Then it was one thing going wrong, then one more headache.  First the kicker quit running, then all the lines got tangled…ugh
So, we replaced the plugs on the water, got the lines untangled and started fishing again.  The top two producing harnesses were Northland's Baitfish Image chartruse and orange blade, and Silver Streak's Moldy Muffin, copper with green and yellow spots.  Monica from Fishlander (which was my new girlfriend, before I dumped her mid-morning, let me down, but Fishlander's Confusion blade pulled in the third most fish.  Also did well on Silver Streak's Purple Parrot.
Here is a pick of our neighbor Cliff, who couldn't have a beer until things finally settled down.  The first couple of hours were a bit hairy, with the motor, the lines, and the fish finally coming in.  You can also see that the water really settled down and that the sun was out at one point yesterday!
Both he and dad manned the front of the boat, and those were the bottom bouncer set-ups.  One nice thing about being in the back,  I can honestly say,  I never lost one fish all day.  I would just had off the St Croix's that I had the boards running on to those guys to reel, while I released the boards and netted the fish.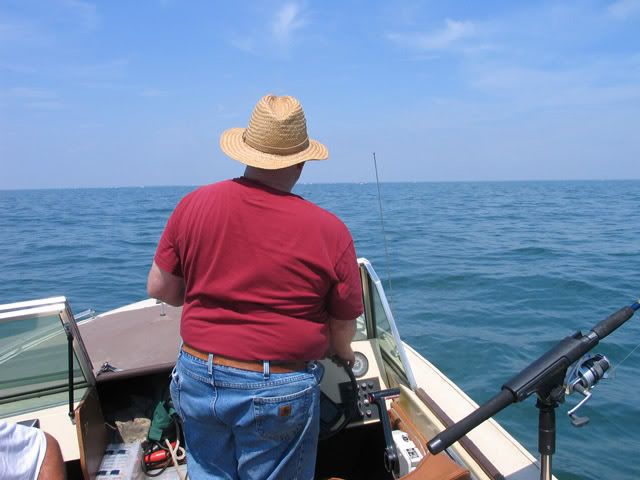 We got in right before the rain came.  Overall we took sixth place, and had the fourth or fifth largest fish with that first 5 lber.  That was fun, but not as good as after the weigh-ins were complete.  The best part was the fish fry, and it was excellent.  The fries, the slaw and the fish were some of the best I have ever had.  I tried to make a dent in it, but there was still more fish than there were empty stomachs, so not all of it got cooked.  There were door prizes, spoons packages, life vests and tackle gear given away.  Then after that was completed,  everyone who fished the tourney received 20% off the products in the store!
Jason and Mike, the owners of Matthew's  ran a first class operation all the way around.  It was fun, friendly and ummm….fulfilling.  Cannot wait for next years event.  Ooh, and I had more fish to clean for a second straight day.