Going to try and sneak in topics when I can this month, it just got a bit busier around here.  So, this is about something I really enjoy doing, spending time with my father, and of course fishing.
While we were recently up north at the cabin, we went chasing toothy critters.  I love to go pike and muskie fishing, it goes back to when I was a kid, when the "old" guys would leave camp and come back with 40 inch Northerns from Lake Michigan's Big Bay de Noc.  I still enjoy the taste of pike to this day, but the ski's get returned to the water.
In this case, we had trolled around the lake checking out drop-offs and points, shorelines and pads, stumps and flats…you get the idea.  We settled on this small bay around 8 or 9 foot in depth near an outlet stream.  I put on a small Mepps Musky Killer for dad and started to get my Premier rod rigged with a hairpin style muskie spinner.  First cast and he starts rubbing it in, and somehow that quarter as a kid for first fish, became 10 bucks!!!  I blame Granholm and inflation

Anyhoo, what came back to the boat was the is beautifully colored Tiger Muskie.  So I tell dad to hold it up so I can get a picture, course he starts off by holding it belly forward so I all I have is a white streak.  Even though this fish was only 30 inches, the greens were almost emerald in its markings.  Just a work of art.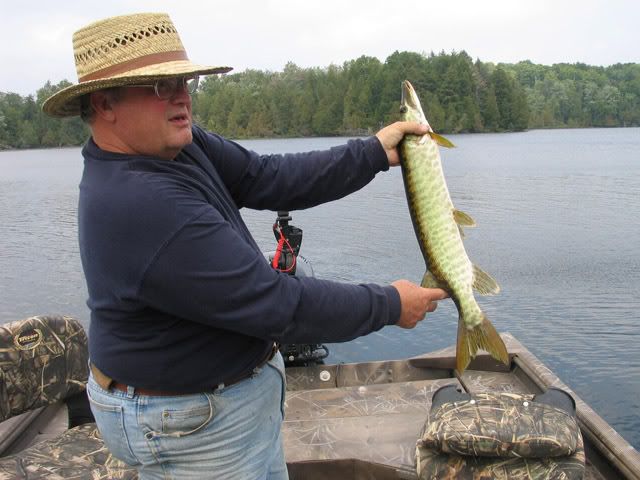 Just for those who haven't heard of a Tiger Muskie before, it is a cross breed between Northern Pike and Muskie.  Usually done in a hatchery, but it does rarely occur in the wild.  The reason why it is so rare is that the breeding habits and requirements are different between the species.