One thing I like to do is take an idea, build upon it, improve it and make it a do it yourself project.  This took less than an hour to do last night after I figured out what I wanted to do.
One of the ideas I got from the show yesterday was for creating my own blade racks while building crawler harnesses. I was running out of room with the Plano 370 trays in my kit box, so I thought about it for a half hour and built upon and somewhat improved from the original design I saw at the show. There they were putting some board into a 3″ Plano without dividers, same used for spoon storage. using finishing nails or something close to that, snipping off the heads, and sliding the blades on. Thought about doing that, but figured what a mess it would be if it tipped over. So rather than do that, I took some scrap plywood, rough trimmed it up, squared it off and put the nails in, and snipped the heads off. I could have put more nails in, but wanted to have enough room for the blades that came in packages, so I would have the names and numbers if I wanted to reorder at a later date, it would be a bit easier.
I have some empty slots, but will fill those up with Northlands new blades coming out later this spring, plus I can keep the Smile Blades, my own painted blades, and smaller sized blades back in those Plano trays in the harness kit/converted tackle box.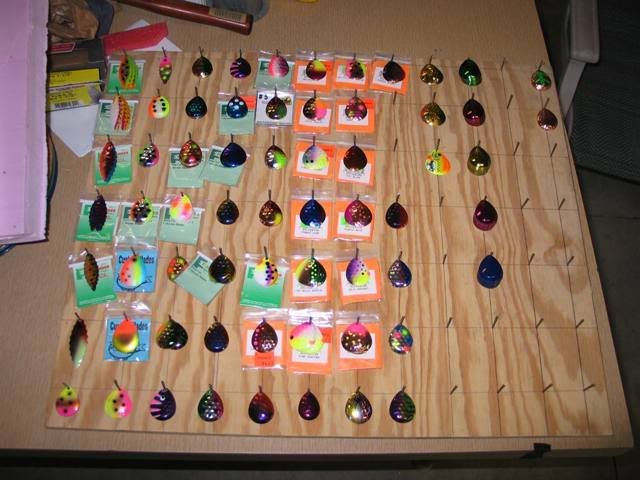 Later when it warms up, I will take it outside and probably paint it. But it will be a simple way to store blades, grab the ones I want when making rigs. If you dont want to keep the mfg pkg's, you can store a whole more than what is there too. Eventually, I will find a space on the walls upstairs, and have them up out of the way.