I got home from the Channel Lake event late Sunday night, spent Monday cleaning crappie, bluegills and sunfish.  It was a great trip, fun tournament and not a bad finish.
We left Wednesday night and ran into white outs south of Lake Michigan.  Saw several vehicles go off into the ditch, semi's jack-knifed.  Got into ice on the roads before, during and after Chicago.  The big tractor trailers were stalling on the hills if they didn't have enough momentum built up to keep the rigs rolling.  They literally were stopped in the middle of four lane expressways.  The six hour trip from Ida, took 11 hrs.
We pulled in around 5 am Michigan time, reset our clocks back an hour for Central time, and hit the sack for a four hour nap.  Got up and hit the ice.  We had heard that the weedbeds had been killed off  for all the pleasure craft traffic that the lake has during the summer months, but had no idea it would be so bad.  We tackled the south end of the lake on Thursday to get our bearings and do a little fishing.  Small gills here and there, and no crappie to be found.  You have to weigh in 8 gills and 8 crappie for your total bag weight on Sunday.
Friday my partner was a little under the weather, had the 24 hr bug or food poisoning, not sure which.  So I spent the morning going through some other areas around the mid section of the lake.  I popped 60 some holes with the Ice Gator electric auger.  Finally I looked at the watch, 2 pm and I figured it was lunch time.  Went into the local bar on the lake for a burger and couple of beers.  Sometimes you get more information in the local watering hole than out on the ice.  I thought this might be one of those times when I heard the word cribs during a conversation with one of the local anglers.  All I could think was, "crap, here we go again".  Looking for cribs can be very time consuming, and not always fruitful.  I waited for Saturday, the day before the tourney to investigate.  There was a forecast of snow, and high winds, perfect cover for checking holes out in the open away from the crowd.
That night I got on the hotel provided computer and did some searching.  After looking at several useless sites, I found what I wanted.  A list of three cribs on the lake, with GPS coordinates.  Walked back to the room, and told my partner,  "Who da man?  I daman".  We had high hopes the cribs would be loaded with fish.
Saturday morning came,  John headed back to the south end while I checked the north side of the lake.  I started drilling and fishing my first 10 holes.  Nothing but gills and no big ones.  By this time I started thinking time management.  Put the rods and the Vexilar away, and broke out the camera.  Now the northside was being hit hard that morning, teams drilling everywhere looking for fish concentrated in any numbers, so there were lots of holes already drilled.  So off I went with the camera draped around my neck, and me dropping it down in holes already drilled.  Finally half way down the shore I found crappie in shallow, less than five foot.  Nothing big, and only a few fish here and there, nothing schooled.  Next hole, same thing, and again on the next spot I checked.
Not the most promising find, but still, after three days of fishing, and not catching a single crappie, it was worth the look and time it took.  By this time the wind is cranking 25+ mph, the snow is falling and blowing, white out conditions.  I call John, time to start looking for cribs.  He took the south end and I headed for the middle lake section that held a crip.  My friends the Clement brothers were there already because I had given them the waypoints the night before.  Without a camera they were fishing blind through the spot.  Checked the first hole they had out, and was right on top of the crib.  Beautiful crib, but not a fish of any species to be found.  We headed to the next crib, where John (my partner) caught up to us.  His crib was empty too.  We drilled and located the third crib, again…nothing.
This wasn't looking too good at this point.  We had counted on these cribs holding fish, and with only a sparse sighting of crappie sighted on the camera in a pretty beat up area,  all the plans were focused on getting there first and seeing what happened next on Sunday.
That night we go to the rules meeting.  Getting some pretty mixed signals from folks you know are good anglers and usually in the top 20 after weigh-in. We head back to the room, and get our rods ready for Sunday morning.  After that, its time to crash early and get ready to go the next day.
Sunday rolls around, and its an early wake up, 4 am comes early.  Why they put a snooze function on a cell phone, I don't know, but I get up at 4:30.  We get dressed, grab our gear and head out the door.  Unload at the parking lot, there are some teams already there.  Get out to the lineup, and there are probably 20 teams in front of us.  Not great, not bad.  We get released at 7:30.  We waited an hour till then, but that's what you have to do to get your spot in line.
We head to my first GPS point and start drilling around the machines with the Gators.  I drop the camera down to see what's there under the ice on game day.  The crappie are there, and they are schooled this morning.  Same with the next hole, nothing then, but on the fourth and fifth holes…bingo.  We are looking pretty good at this point.
I start fishing at 8 am, official start time.  I flip the Fish Trap Pro over to sight fish.  The water is cloudy, so I switch up gears and start tightlining with the Vexilar while sitting on my bucket.  Gill, gill, gill…small crappie, another small crappie.  All the time John is sight fishing still.  Turned out that the water would cleared, then clouded up again, then cleared up again.  It followed that pattern all day.  I kept tightlining and drop down another hole.  More gills, more small crappie while John has caught about three nice 8 and 9 inchers.
So the fish are still there, so I drop back down the first hole and start fishing. Finally, the drag starts screaming off the Daiwa.  Its a 10 and 3/4 inch crappie.  Things are looking up, catch several more gills, so move into another hole.  More gills there, catching a lot of 7 inch gills at that point.
I go back to the first hole again, couple of small crappies, more gills.  Lots of teams are moving now around us.  Most leaving for secondary spots, a few coming in.  I stay on my lil' honey hole keeping them from fishing it.  A camera crew comes by when the Daiwa starts talking again, then screaming like a banshee.  It catches every one's attention around me, but at this point I am standing up, not even sure how I got to that point.  Its a good fish, and I can see it flashing at the bottom of the hole before it tears off on another run.  I kick the transducer out of the hole, turns out it was a good thing I was standing.  The fish's head comes out of the hole and I actually pull back on the rod and yank the fish out onto the ice.  Not my brightest move of the day, but it paid off.
I keep fishing, moving a few feet here and there, just not getting anything more of size to help our weight situation.  John is still under the trap, and pulled up a couple of nice thick 8 and 9 inch gills to add to our weight.  The bite slows down, and we sort our fish to see which 16 would make the weight.  Its 12:40 then,  and time to head in to stand in line for the final weigh-in.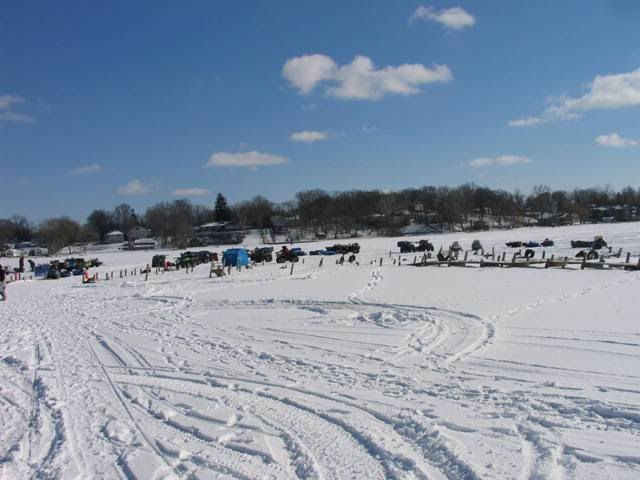 In the top pic you can see some of the machines.  In the next one are the teams standing in line and some more machines behind them.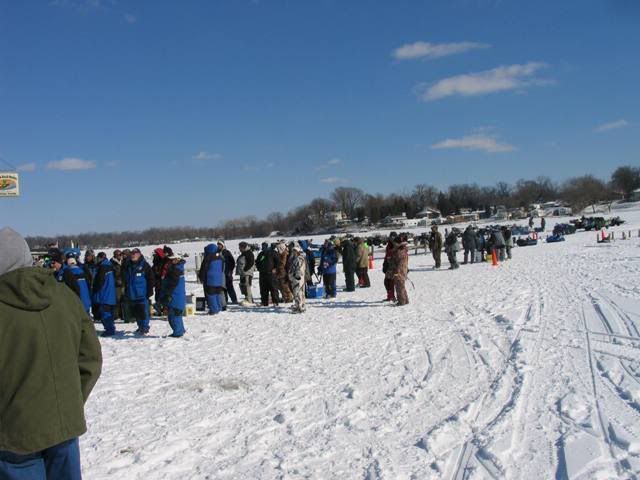 Here we have the teams handing over their fish to be weighed.  Every team gets interviewed while waiting for the weights to be flashed on a screen.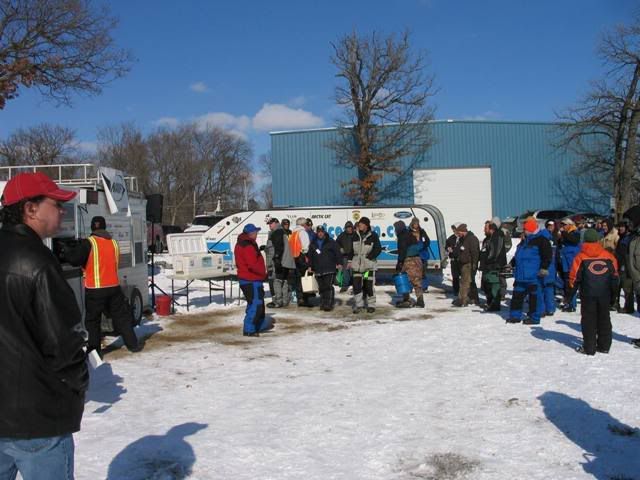 We ended up in 16thspot, and actually tied withone other team with the same weight.  That big fish came in handy, it was the tie breaker between the two teams.  Our big fish was 1.08, theirs was .79.  It always pays off to weigh in a big fish.  It can literally pay off by getting you in the money, and down the road for your total points for the championship starting spot next December.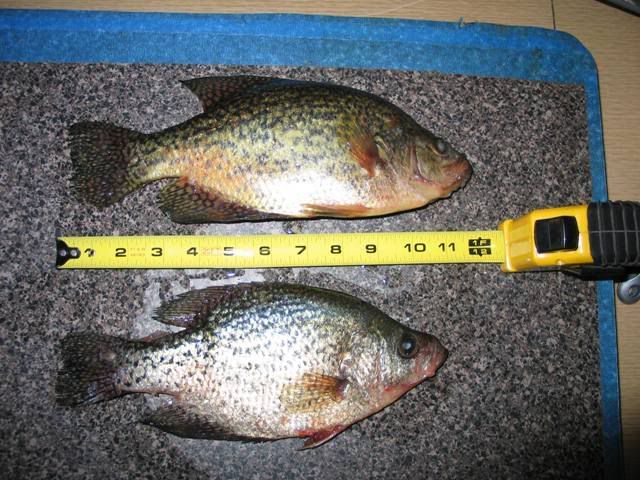 My big crappie measured out at 12 inches,  that first big one I caught earlier in the morning came in at 10 and 3/4 inches and weighed .97 lbs.  Our team total weight was 6.86 for the day, about 2.5 lbs behind the eventual winners.  Another 1/2 pound would have placed us in the top 10.
Great time, and yet another good learning experience.