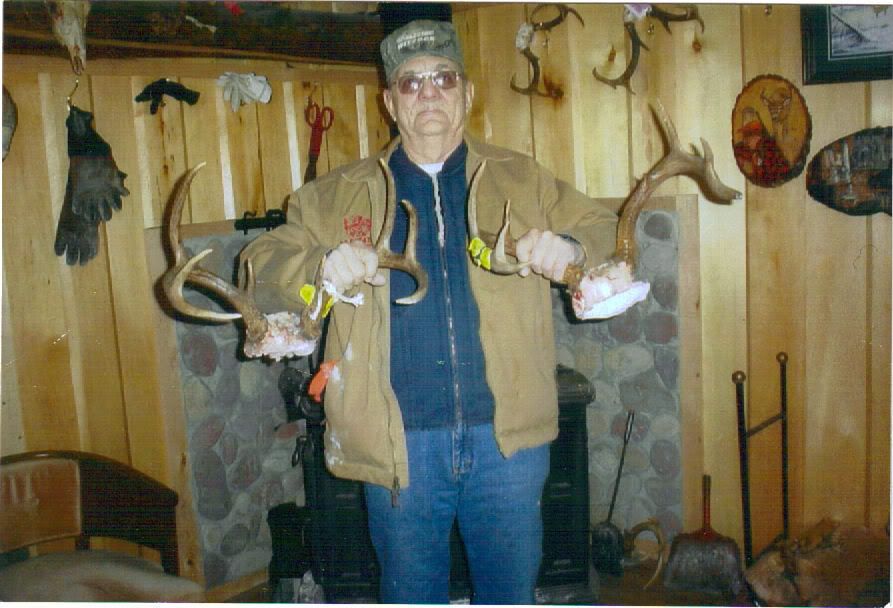 This is ole "straight shootin" Dick Baldwin from Marquette Michigan. He is the Patriarch of one of the most successful hunting families I personally know. His son's Gary and Greg, grandson Matt, and son-in-law Dale make up the usual deer camp hunters. They hunt the beautiful, and rugged hills around their camp, and know the area like the back of your hand! They usually incorporate most hunting methods during the season such as standing, driving, and sneaking. If there is snow on the ground, one of them may "cut a big track," and follow it for hours! Their buck pole seems to always have a deer or two hanging by opening day evening, and more often than not, it's Dick's buck.
Well this year "poor old Dick" turned 80, and you might think he'd slow down a little. "NOT!" Those two beautiful 8-pointers, in the above picture, were both shot opening day by "the man" Dick Baldwin. Not only did he accomplish a feat most of us only dream about, he did it with exacting precision. Both of those mature bucks were dropped, in their tracks, by a perfect heart shot! Dick is the epitome of a true woodsman/hunter in every sense of the word. Part naturalist, conservationist, and environmentalist; Dick is the complete package. He truly cares about all our natural resources, and is a wealth of knowledge when it comes to wildlife, and the habitat they live in. Congratulations again Dick-you do the hunting fraternity proud.
Gary Baldwin said the camp motto this year was 2-eights-at-80, and he couldn't be prouder of his dad. Dick wasn't the only one to connect, as Greg and Gary also took bucks, but not as big as their dad's! Matt and Dale had several opportunities at "lesser" bucks (spikes to small eights) but passed them up. Sometimes you have to "let em go to let em grow!" Hey maybe they'll be big enough for Dick next year when he's 81. You'll have to think up a new motto for that scenario "boy's!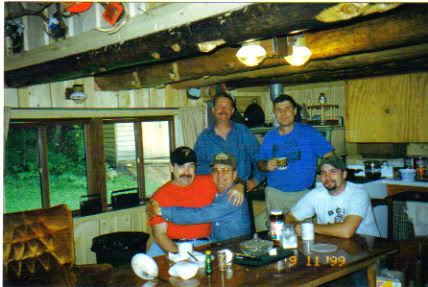 That's me on Dicks lap with Greg, Gary, and Matt. I've been trying to get Dick to adopt me, but no luck yet!
Mike