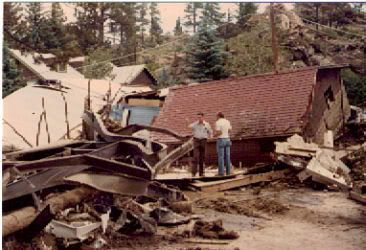 Looking at this mess one would think a tornado ripped through this area, but this is in the mountains of Estes Park Colorado! What could be behind all this damage?
Recently Monroe has been under a flood watch/warning, and has in fact experienced substantial flooding through the East side neighborhoods of town. The combination of rain, snow, melting ice, and extreme temperature fluctuations created the conditions needed for our winter "waterland" emergency.
Now travel back with me to Estes Park during the mid 1980's. We were camping about 8 miles from this beautiful little "tourist" town,and had just woke up to sunshine and blue sky's. Gary, our offical camp cook, was well on the way of having breakfast ready for nine hungry campers. He had the radio on listening to the local news, when the announcer broke in with a frantic warning! He was calling for the evacuation of downtown Estes Park due to floodwaters racing toward town! At first we thought it was a joke, as the weather was gorgeous, and there wasn't a cloud in the sky. As we all gathered around the radio, we soon found out that an earthen dam had collapsed. Located high up in the rockies, the small lake this dam was holding back, was now coming down a little stream that ran right through downtown Estes Park!
We hopped in our cars and raced toward town to see if we could possibly be of any help. We arrived there about 20 minutes after the "little 6-foot wide stream" cut its deadly path through town! We couldn't believe our eyes, at the damage that was done, to the quaint shops and stores down main street. A trailer park took a direct hit, and several motels were wiped out, along with the first few stores and restaurants, where the water entered town! Emergency crews were already hard at work trying to move the tons of mud that blocked every roadway, and flowed through many of the stores. Roadblocks were being set up, so we got out and walked around on foot surveying the damage.
Thankfully there was no loss of life in town, but further up the valley several campers drowned when the cascading water ripped through there campgrounds! Every time we get a flood warning in Monroe I'm reminded of the devastation that took place on that beautiful sunny "Colorado Rockie Mountain High" day, and I'm thankful I'm a "flatlander!"
Mike