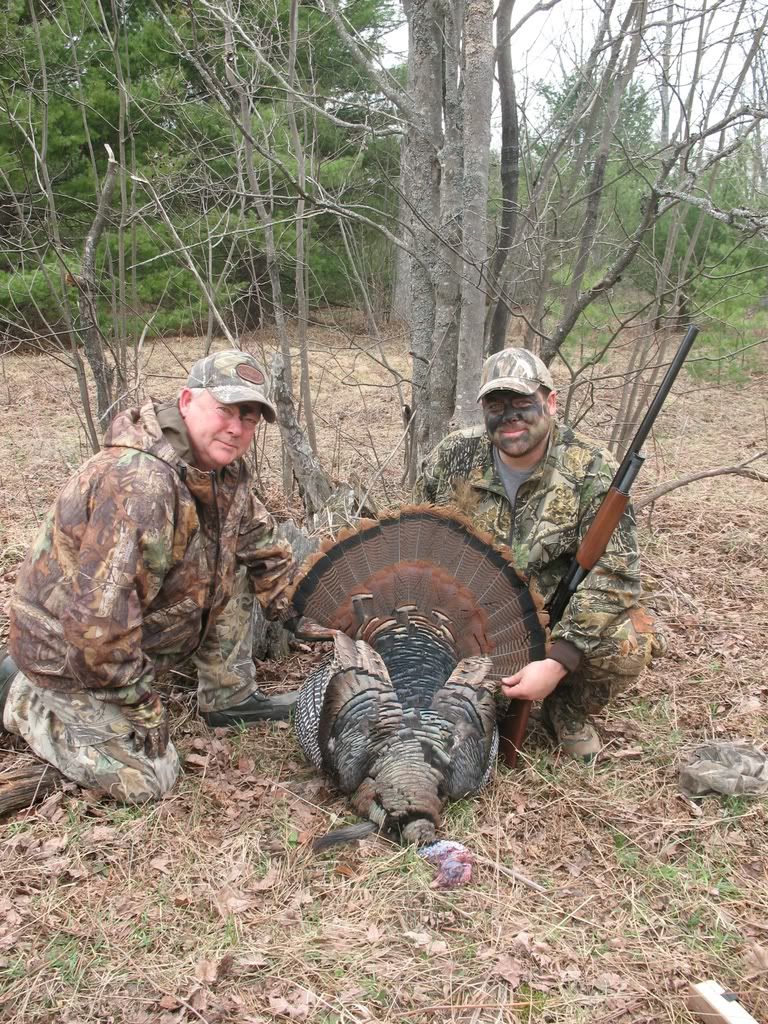 Turkey season 2008 has been kind of different, but then some things never change. The weather didn't cooperate the first hunt, and the Toms were still grouped together at the start of the second hunt, but that doesn't seem to bother my little brother Darryl. His ability to bring in the "longbeards" is legendary in our family, and he proved himself a 'winner" again this year.
Darryl's boy Derek had a second period hunt, and Darryl has the last hunt, so Darryl was "calling for Derek last week. Darryl took his grandson Tanner with him, and Derek took his son Tristin along. Monday they tried a pop-up ground blind set-up, and saw several birds, but didn't have the right set-up to score. Tuesday found father, son, and grandkids set up on two Tom's that had been seen earlier in the week, in the late afternoon. Darryl was not only calling, but videoing also, and already had some good pictures. The boys were having a blast, and getting some excellent training on how to fool a hunter wary bird!
Darryl decided to split up, and try and call the birds past Derek, which is exactly what he did. Two mature Tom's couldn't resist Darryl's sexy hen yelps, and came in, in full strut! Derek "popped" one with a 9″ beard, and spurs just over an inch long. The boys got to see the whole "show," and can't wait till they can try their hand at turkey hunting. That's the way you add hunters to the sport-these boys are "hooked" for life!
I'm sorry to say my hunt fell through, and I didn't even go, which really bummed me out. My brother-in-law had three turkeys in his back yard four days ago, and he only lives 300 yards from my house. Michigan's turkey reintroduction program is a huge success, and a boon to the states economy. I hope to have a better plan in place next year-like hide in Darryl's hip pocket.
Mike