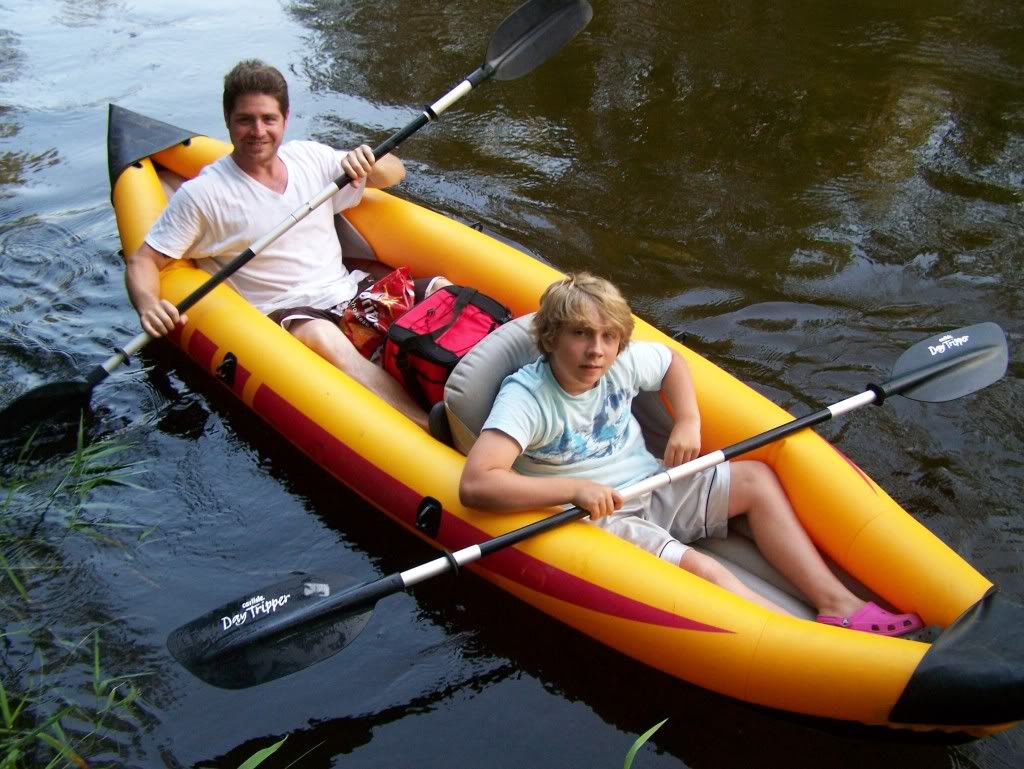 Boy if this group of "4-wheelers" don't make you laugh nothing will. Actually we had two dirt bikes and two 4-wheelers with us for the first weekend of our 10 day vacation. Son-in-laws Mark (Chicago) and Tony, along with Tony's son Quinn and his daughter Nina did the real off road riding, as they went to a state run 4-wheel/motorcycle trail just south of the cabin. They had a blast, but last day they road Tony hit a stump, and got thrown for a loop. He hit his head on a huge rock, but thankfully was wearing a safety helmet, and was ok! He did however suffer an injury to his elbow, for which we took him to the Manistee hospital emergency room. They were great, and had x-rays taken in no time. No broken bones just alot of swelling and bruises. Tony was sore for several days, but knows it could of been a whole lot worse.
Mark and Quinn were the only two to venture down the Little Manistee in my inflatable kayak. It normally is a 1 hour trip from where they put in, and we were going to pick them up at the nine mile bridge. Manistee had a real severe thunderstorm with major straight line winds, and many trees were blown over. I guess several of these trees were laying across the river, and it took some maneuvering to get around them. In the course of going over, around, and through these trees the kayak developed a couple holes on the inflatable underside. The guys were on time for pickup, but the raft was just barely keeping them afloat at that point. Another couple hundred yards, and they would of been walking home! The inflatable kayak is great for that kind of river float, but I've patched it quite a bit already, and don't know if this "river queen" will make it one more year.
The Little Manistee was named a National Historic River a few years ago, and I don't think fallen trees are removed by the state. If those trees are going to be taken care of I suppose a few of the local landowners will need to get their chain saws buzzing. If there still there next year we may have to spend a day on the river just to clear us a path for the kids.
Mike