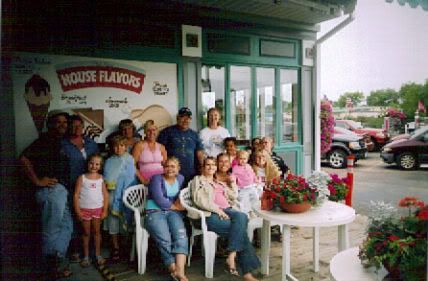 The "House of Flavors" in Manistee is one of our favorite places to take the grandkids. It's in downtown Manistee and sits right on the river just about 2 miles from it's Lake Michigan beginning. You can go right from the ice cream parlor to the boardwalk for a leisurely little stroll "down by the river side!"
We met up with the Tibia's and the Verhille's from Monroe quite by chance. Not only are they from Monroe, we all attend the same church. It was quit a "hoot" to run into so many people we have known for years 260 miles from home. Those ice cream cones took a "licking" the day we all strolled into town!
Not only can you get 36 flavors of ice cream, but they serve great food, especially their turkey dinners. No lunch meat in this restaurant! They roast their turkey on a rotating spit, and you can watch them slice your portion off, if you wish.  My wife and I got the turkey dinner with all white meat, dressing, mashed potatoes, gravy, cranberry sauce, biscuits, honey, and cole slaw for $8.99!  Now that's a deal!
Mike