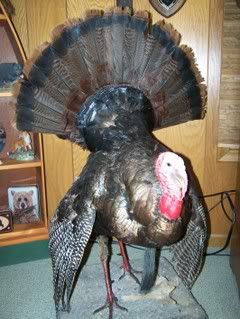 The deadline for turkey permits is today, and it's also my brother Darryl's birthday.  Happy birthday little brother.  Michigans bird population has been on the upswing over the last several years, but could of hit a bump in the road this year due to heavy deep snow.  We still have a couple months of winter to endure, and already were 5" over the "season" snowfall average.  Here in Monroe county we set a snowfall record for January, and have at least 13-16 inches on the ground.
These Michigan birds are hardy, but come nesting time, snow is not good.  I think predation is on the rise also, as coyotes and foxes always injoy a turkey dinner Thanksgiving or not!  It's been a challanging year for hunting preditors, due to the deep constantly falling snows.  Twice I made plans to try a coyote set-up and both times I encountered white-out conditions.   This is also the first year I've ever needed snow shoes to manuver in the field.
Anyway I put in for a guarunteed 234 permit which gives me the late hunt statewide.  This may end up being a good decision, as the birds could be mating later than normal this year.  I kind of like haveing the option to hunt statewide rather than be confined to any particular area.  It is a little harder trying to call a Tom on the late hunt, but it can be done.  Birthday boy Darryl has taken several nice birds during this period, and I've taken a few myself.  If I can break away I might even try an Ohio hunt this year, we'll see.
Mike