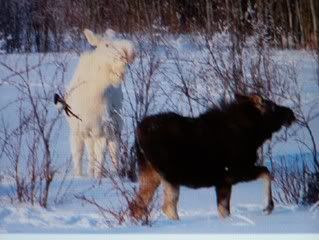 Please enjoy this picture of one of the most unique creatures you may ever feast your eye's on.  This moose was seen right here in Michigan's Upper Peninsula in Gogebic County close to the town of Marenisco.  It's located about 20 miles north of the Wisconsin border.  There were two normal colored moose with a group of four moose and, believe it or not, two albino moose.  To see one albino is next to impossible, but seeing two of them together is beyond belief!
The two normal colored animals were slightly smaller than this rare white moose, which makes me think he may be a bull.  I don't know much about moose, except they taste good, so maybe some of you experts have your own theory.  Come on Gary and Sussie help me out here.
I have another picture of the two white moose together, but it's hard to tell the size of the other one.  In the midst of all the uncertainty and distress our country is going through It's nice to know our Creator hasn't lost His touch for inspiration!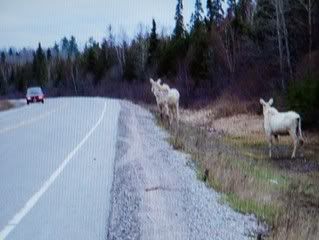 "