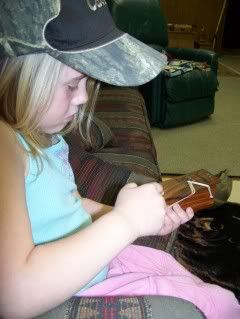 I got my grand-daughter Ava working on a box call, and after only about 10 minutes of instruction, she started sounding good.  Well pretty good, I mean it was ok!  If I can keep her wanting to learn; she may be calling a big Tom in for me next year.  I have 5 grandsons and 5 granddaughters and none of them have showed a real interest in following me into the woods.  Maybe Ava will be "the one!"
Been thinking about the relationships you build through blogging.  It might seem odd, but I feel a kinship with those of you who regularly read my blogs.  I always look forward to your comments.  Some of you I have sent personal e-mails to, and have gotten to know you and your families somewhat.  A few live far away, like Oregon and Idaho, and your adventures add excitement and wonder to my life.  It would be nice to have a Rendezvous one year and spend some fun time together.
My buddy Randy Mills didn't get a deer this year in Kentucky, but a friend of his did (10 point.) Another friend from work went, and passed away last week at 47 years old.  He died from Salmonella poisoning.  What a strange way to exit into eternity!  When ya think about it we all have a last hunting season.  Most don't think very much about preparing for their final "trip!"  For any trip (hunt) to be successful you need alot of preparation, as well as a plan to follow.  You need a map or GPS, proper clothing, food, tools, good working weapon, and many many more details to pull a successful trip together.  Probably the most important thing is deciding your destination.  Once your sure where you want to go, you better follow the proper directions to get there.  None of us are going to make it out of this great journey alive.  What happens next?  Well there aren't a whole lot of choices out there.  Lets see you could come back as a cockroach, just fertilize mother earth, become a god, go to a place where you are totally separated from God, family, or friends, or live forever in a special place prepared only for you.  I might of missed a few choices, but YOU must decide where your journey is going to take you.  And whatever you decide you better make good preparations so  you arrive at the place you intended.
You see why this is titled "Random Thoughts?"  Brother Darryl took two of his grand kids hunting turkey last week, and 10 year old Tanner (TJ) got  a Tom with his 20 gauge.  I haven't heard if Tristan did any good, but I'll do a follow up blog when I do.
Mike