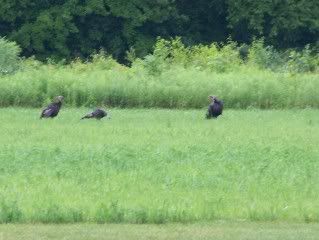 I know turkey season is long gone, but check out these birds feeding almost in my back-yard.  The one on the right is a big Tom with a least a 10 inch beard, and the other two are hens.  They were about 80 yards away so it's not the best picture.  My brother in law only lives a few hundred yards from me, and he called the other evening, and wanted me to come down to see the turkeys.  He owns about 8 acres including this hay field, and he's been watching these birds for several weeks.  I'm sure the hen, or hens, are nesting in one of his thick hedgerows.  I hope they multiply and stick around in our area.  We do have a few coyotes around, and foxes, so the turkeys have their work cut out for them if they want to "homestead" this area.
I'd say the DNR's plan to bring the Eastern Turkey back to Michigan has been a huge success.  They are found in every county in the Lower Peninsula, and their range covers a good portion of the Upper also.
I got my bird back from my taxidermist, and it really looks good.  I had it done flying, and it takes up a good section of my den wall.  The wing span is huge, and it shows of the golden color variation in the tail feathers.