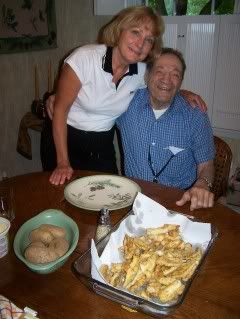 My wife Lorna with boxing coach Joe Giarmo getting ready to dig into a yellow perch dinner.  This is the first batch of perch we've had this year, and it doesn't get much better than this.  We had baked potatoes, with butter and sour creme, and fried zucchini along with the fish.  It was good, very good!  I like walleye, sunfish, trout and salmon, but my favorite is Lake Erie yellow perch.
Regular readers know that my friend Joe is 93 years young, and a local legend due to his 60 years of coaching young pugilist.  Joe stays active, and the day after this picture was taken, he came over and fixed my broken lawn mower.  He told me he was up all night thinking about what could be making my throttle stick wide open.  He had the problem taken care of in about 10 minutes.  Joe is one remarkable guy, and a great friend to have.
We are leaving tomorrow for 16 Mile Lake in the U.P. for about 9 days, and if I can't find access to a computer, my post will be down for awhile.  The weather forecast is calling for 10 straight days of rain and thunder showers, which kind of bums us out.  We could of picked any time this summer, and looks like we should of opted for a different week.  Oh well we'll take our rain gear and pray we see the sun occasionally.
My son-in-law is taking my Polaris up, and I will do some scouting for possible bait sites.  Also we plan on doing some fishing, especially some brook trout fishing!  They rank right up there with the perch.  Hopefully I can get into the library and do a couple post, but family and fun may push those plans to the back burner.  "Later."
Mike