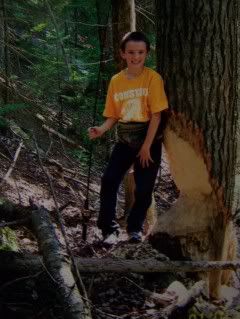 The beavers are thriving on the Baldwin property in the valley between the ridges.  We saw more sign of their presence than we ever have in the past.  Dick Baldwin used to trap beavers too help supplement the family income, but no one is trapping them now.  I personally found three beaver lodges, which means at least three different beaver families.  I'm sure there are more than that, as the one dam I found was at least 100 yards long.  Stop and think about that, 300 foot of engineered dam 4-5 foot high, in most places.  Not only do they build them, but they maintain them.
My great nephew Seth Ansel is standing next to a huge pine tree that is about a day away from laying on the ground.  This is the biggest tree we have ever seen beavers tackle.  They don't use chain saws, but their front teeth.  Beavers teeth continue to grow their whole lives, and I can see why.  The word eager beaver is most fitting, as these industrious critters never slow down.  For two days I fished, standing on the top of Mr. Beavers dam.  My 215 manly pounds caused a slight breach in the construction project, as water flowed out from the backed up pond.  Each day I returned, the breech was repaired.  The beavers were probably about to get a lawyer and sue me for causing them extra work, so I found a different spot for my last day of fishing.
I brought back some "beaver sticks" from which I make walking sticks that I sell at craft shows.  I'll post  pictures of some of my completed work one of these days.
Mike