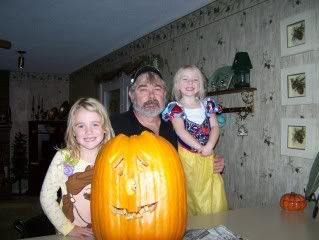 What do you do, at this time of year, when you can't make it out in the woods to hunt?  Why, you carve pumpkins for your grand kids.  This is the first of several I'll end up doing, but it will probably be the biggest one.  We got this pumpkin from son-in-law Tony's garden.  He's been supplying us with our October "gourds" for many years now.
Little Addy (Snow White) liked the pumpkin, until I put a candle in and lit it!  Once I turned the lights off she had a whole new perspective on how she felt about "old Jack!"  Of course Ava thought it was "way cool!"  My wife and I aren't really into the whole celebrating Halloween thing, but we have a good safe neighborhood for the kids to go house to house, and figure it's better under our watchful eye than elsewhere.  Besides we get to see our kids and grand kids for a whole evening.  I think I may do a bonfire also.
Still not much news to report on the Ansel game pole.  Seems everyone is scuffling to make ends meet this year, and there isn't alot of time (or money) for recreational pursuits.  I would say the present economy has something to do with fewer hunters in the field this year.  I hope thing pick up pretty soon.  I can't keep writing about pumpkins can I?
Mike