When all my family gets together there are 23 of us.  Thanksgiving day only 16 were able to be there for the scrumptious meal prepared with loving hands.  It truly was a feast.  There was one thing missing from this years family celebration, and that was a venison dish, made by yours truly.  If not some sausage at least some jerky, but "no" old "Mother Hubbards" cupboard (freezer) is bare!   Probably the only ones to truly miss the "wild game" were the guys, but hey the kids like the jerky also.
I made it out the day before Thanksgiving, but again didn't see a thing.  I did have someone quite close to me shoot three times, right around dusk.  They probably dropped that little 5-pointer I passed on.  Dummy!  I sure haven't put many hours in the stand this year, as I still don't feel 100% over this flu/cold that's worn out it's stay around our house.  Hopefully I'll get some quality time in the woods come the cold wintry end of December.  Think snow!
On a more sober note I had made up an album of pictures of Joe Giarmo from over the years.  Everyone had a chance to reminisce and talk about the good times we had with this humble man.  How blessed my family was to know Joe as a true family friend and father figure.  He gave so much to those around him, and required very little in return.  Papa Joe has left a void in all our lives.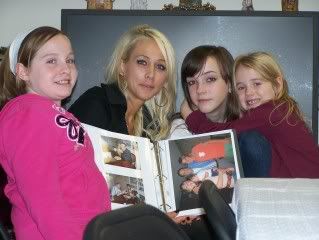 Nina, Mindy, Nadia, and Ava looking at the picture album of Joe Giarmo.