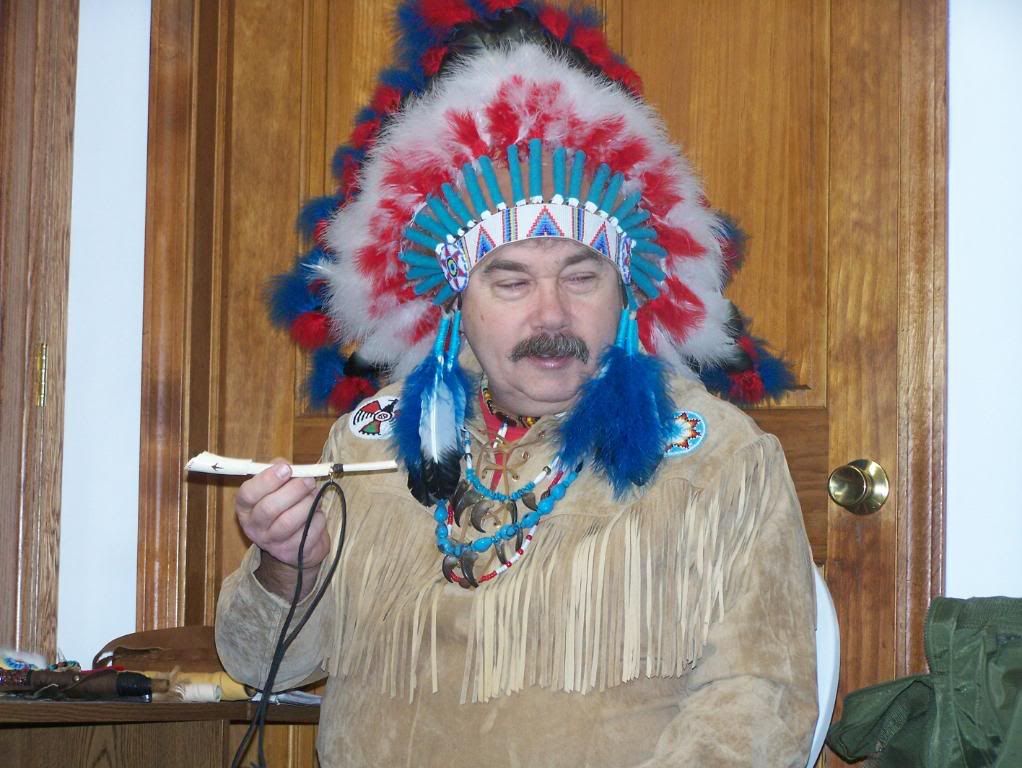 Chief 10 Bears in all his glory, or is that gory?  Seeing how I'm on a roll with American Indian lore I though I would share some news I heard from my cousin, Tommy "Tomahawk" Douglas yesterday.  Tom is my mothers nephew from Canada, and makes his living as a writer, (history and travel) editor, and columnist.  Tom is like a detective when it comes to researching any subject.  He is quite well known in the literary circles in Canada, and his name is all over the Internet.  I tell you all that to give credence to what my cousin told me yesterday when I asked him about our Native American roots.
Rumors have floated around about my mothers heritage ever since I can remember.  Her mother died when she was just three (3) years old, and she knew nothing of her grandmother (Jenny Montgomery) or her husband, who's last name was West.  My mothers mother Irene had a brother, Richard West, who I met several years ago in Sault Ste. Marie Canada.  Uncle Dick lived to be 96, but it seems he had a secret he was able to take to his grave.
Cousin Tom told me that before my mothers brother (Gordon) died he told him that Jenny Montgomery was a full bloodied Cree from Manitoba.  She was Uncle Dicks mother, and my mothers grandmother.  Evidently Uncle Dick was ashamed of his heritage and was able to somehow destroy any records from the Montgomery side of the family.  Cousin "Tomahawk" felt Gordon was telling him the truth, and tried to research the family tree, but kept running into a dead end at Jenny Montgomery.  There seems to be no records of her to be found.  Back in those days many people tried to hide their Indian heritage.  I'm sorry to say that Great Uncle Dick was evidently one of them.
Tom had written the memoirs of an Ojibway Indian from the Wawa area, and had numerous Metis and Ojibway friends.  While doing his research for his book, he related, to a wise Ojibway women, his dilemma in tracing his Native American roots.   She said to him "If you have been told that you have Indian blood in your veins and if you feel in your heart that it is true, then it is true!"  Cousin Tom then told me that he has no qualms about telling people he is one-eighth Cree, and that if I accept the Ojibway woman's advice i can proudly say the same.
I wish Uncle Dick would of embraced his Indian heritage, but for now I will "bask" in the wisdom of an old Ojibway woman.  The documentation may end at the name of Jenny Montgomery, but in my heart of hearts I know I am connected to the earth with Native American blood.  This information has brought a great freedom to my Spirit, as my ancient heritage calls my name from the shadows of the past.
Chief 10 Bears
One-Eighth Cree is Good Enough for Me