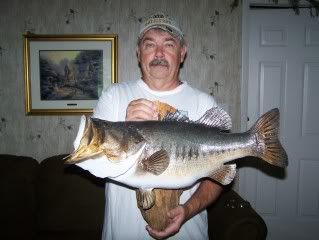 It seems like ages since I did a post.  There is so much going on during the summer months that I almost forget I have a blog to maintain.  So far I've done a little fishing, but haven't really gotten into it yet.  Now if I had a spot where I could catch "Basszilla" I'd be after him every day.  Fish, like the one in the picture, cannot be found in Michigan waters.  Anyone who has ever landed a largemouth bass knows this one is big.  I mean very big!
I've fished Florida three times trying to land the elusive 10 pounder, to no avail.  My son-in-law Tony fishes it one time and comes home with a 14 pounder.  This is a fish of a lifetime, or maybe two lifetimes.  He caught it on a big shiner using a balloon for a bobber.  It only took him about 10 minutes to get him in the boat, and this fished dwarfed everything else that was caught that day.  We were fishing catch and release, but Tony definitely wanted this one for the wall.  It measured a little over 26 inches long and was the envy of everyone that got to see it.  Hey a nice 5-6 pounder will get your heart thumpin here in Michigan.
Just a little side note.  I was drawn for a Michigan fall bear permit, but it was the third hunt.  That's a tough hunt, as the bear have been chased around for two weeks prior, and are really "spooky" by then.  I may just wait till later in October to try and fool one into range.  Got passed over on the elk permit again.  That one will probably never happen.  Gotta go cut the grass.
Mike