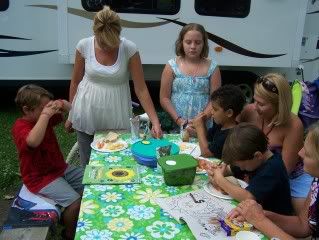 Mealtime at the campground can be kind of tricky when there's seven grand kids and six adults to feed.  Logan Samuel Horwitz (red shirt) is asking the "Blessing" over the meal, and he said a wonderful prayer.  I think we may have caught Kyle (across from Logan) stuffing his mouth during the prayer of blessing.  We spent the evening with daughter Meghan and her son Logan (from Chicago) as the rest of the crew bought day passes to visit us at the Summerfield KOA in Southern Monroe County.
We swam, did the water slide, played putt putt, went to the play ground, and caught some fish.  We also ate some good chicken salad sandwiches and pasta.  In the evening we did a bonfire and of course had smores.  Quinn helped get the fire going, as I was having a little trouble getting it started.  We toasted several to perfection, and had a sticky mess once we were done.  Funny how far a kid can miss his mouth with a marshmallow.  How do they get it in their hair?
This morning Logan and I went fishing and he caught 5 fish on five cast.  These were nice sized bluegill and sunfish.  He had to borrow his cousin Addy's "Barbie" fishing pole, but old Logan was a real pro at reeling them in.  In fact Meghan even got in the act and caught a fish.  They leave back for Chicago tomorrow, but they take some good memories with them.
Logan and one of his big bluegill that he caught all by himself.