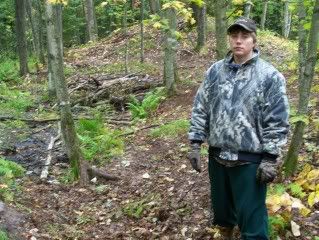 My son Micah as we're leaving one of our bear baits.  The mixture of oats, sweets, and syrup is under the pile of logs in the background.  I am sorry to say we came home empty handed, as far as a bear is concerned, but full of fun wonderful memories from this trip.  We had a great time, and it didn't really matter that the bear, the weather, and the wind didn't cooperate.  The weather was not conducive to bear hunting, but that's the way it is when playing on "natures" turf.  We had torrential rains for two solid days, and wind and rain for several other days.  The last day of our hunt we were sitting in our tree stands over this bait, as it had been "hit" the evening before.  Just before dark I saw a black shadowy figure, move between trees, about 65 yards to our right.  A smaller black form moved behind the larger one, and they then just melted into the underbrush, downwind from us!  I saw about 2 seconds of them, and knew we were in trouble, as the wind was blowing right toward the bear.  We sat another 1/2 hour, but knew we had been "busted!"  The other baits never were "hit" as the bear were just not moving.  They don't like the wind and rain either.  Hey there's always next year.
When at the Baldwin bear/deer camp there is always something to do, and I don't feel sorry for Micah and myself one bit.  We enjoyed awesome fall colors, fantastic Marquette scenery, excellent fishing, and the camaraderie of good friends.  We had side adventures of chasing a mouse around the cabin, playing cribbage by gas lite, and getting some great "pine martin" pictures on my trail cam.  We even got to play nine holes of golf with Matt Baldwin on a beautiful little course not far from camp.
I will be blogging about the trip, and our excellent adventure in upcoming post.  We are back, safe and sound, as we turn our attention toward the deer woods.