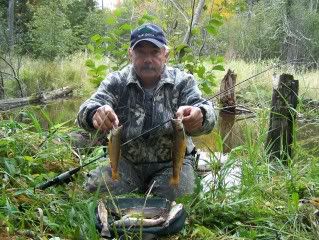 We might not of come home with a bear in the cooler, but we did enjoy some great brook trout fishing.  The beaver ponds, and their dams make for nice, cool, deep water for the brookies to congregate in, and that's where a spinner or fly works best.  Backwater brook trout don't get very big, so when you "latch" on to a 12 incher, you have a real monster on your hands.  Believe me these little acrobats don't know their not supposed to be as strong as they are, but their small size will fool you.
My Nephew Derek caught a 16 incher last year, and I caught a 13 inch years ago.  Micah caught a 12 incher, but over the years these "big boys" have been hard to come by.  The 8,9, and 10 inch trout are more common, and when your eating these tasty morsels, size is not on your mind.  We deep fried a batch, along with some potatoes from Dick Baldwins garden, and a can of pork and beans, and to say it was great is an understatement.  You would be hard pressed to find such fare in any exclusive restaurant.
As we sat at the table and gave thanks for the bounty of Gods creation we were humbled by our surroundings.  The "hiss" from the gas lights, the aroma from the wood stove, and the distant howl from a pack of coyotes were the perfect backdrop to this wilderness meal.  We were sitting at a home made table (Gary Baldwins) surrounded by a family built cabin, produced from trees off this very land.  Almost everything around us was a reminder of "The way things used to be!"  This is a true wilderness hunting camp.  These log walls have heard every excuse, exaggeration, lie, and yes even some truth as the "boys of November" spin their tails.  What a thrill and honor for me and my son to partake of Gods bounty in a setting such as this.  We have made some memories, we have boasted with the best.  We have been humbled by nature, but have communed with natures God.  We have grown closer as father and son, and have experienced the love of good friends.  What more could you ask for on an ink black night in the middle of the "big woods?"  Except maybe one more golden brown brook trout!  Aah!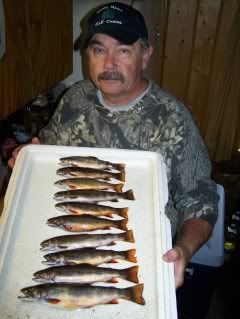 Talk about a fresh fish dinner!