Several years ago I tried to get a live opossum to play dead. After chasing the thing for a half mile through the reeds I was the one who ended up near death with exhaustion. Everything I did – yelling, waving, roaring – failed to convince the animal to shut down. It was a slow motion chase of futility.
I later did some reading up and discovered that not all 'possums are prone to "fainting." Some individuals, when faced with danger, will drop like a stone and stay dropped for hours, while others will remain stone-faced in the face of adversity. It was just my luck that I'd encountered the latter type of beast.
A month ago I came upon another wandering opossum and vowed not to repeat my earlier experience. I slowly approached and snapped a few pictures. It was walking just fine (in the usual pace of a drunken man trying to cross the road) when I first spotted it. Gradually perceiving my approach the creature glanced up with beady eyes and lapsed into death right in front of my eyes. No waving, screaming, or imitating an approaching car was required. Yes, I had a possum playing 'possum right in front of me and all I had to do was walk up to it.
The mortal remains in front of me displayed the frost-bitten ears and scarred tail typical of most northern Opossums. This individual had just gone through a very bad winter indeed.
The "dead" beast allowed me to touch it and yank on its tail but was not completely out of it. Every motion on my part elicited an enhanced sneer on the 'possum's part. The sneer widened or narrowed like some sort of proximity meter whenever I brought my hand near then pulled it back (see movie here). When pulled by the tail Mr. Opossum came back to life enough to dig in with its claws and resist dragging. When the pulling and prodding stopped the thing pretty much gave up on the act and resorted to just plain sneering as if to say "O.K., genius, I'm not really dead and you can leave me alone now."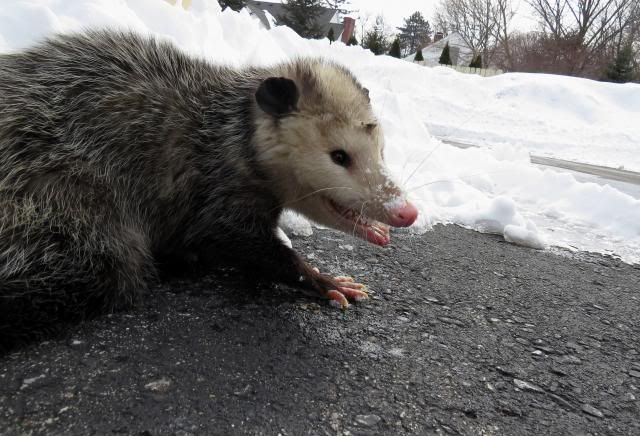 This whole thing reminded me of a similar death routine performed by the Hog-nosed Snake. This critter will roll onto its back, flop out a limp tongue, and even emit a foul rotting smell. Apparently some 'possums will also emit a stench, although my 'possum did not. But to get to the point, whenever a "dead" Hognose is flipped right side up it will roll back into the upside down position. Again, this is a case where the animal has some control over its actions but instinct has to follow a rigid script. Dead snakes lay on their back and there is nothing you can do about it.
The subtleties of fake death are fascinating. Like the snake, the opossum's ruse is not totally involuntary. It does not freeze uncontrollably – as some folks will state. The animal's pulse will drop but the individual is aware of what's going on and will adjust the act where necessary. These are not the actions of a comatose individual. In fact, since the grimace exposes a formidable array of teeth (opossums have more teeth than any other North American animal) it is possible that this part of the ploy is meant as a form of intimidation and thus the reason it is emphasized.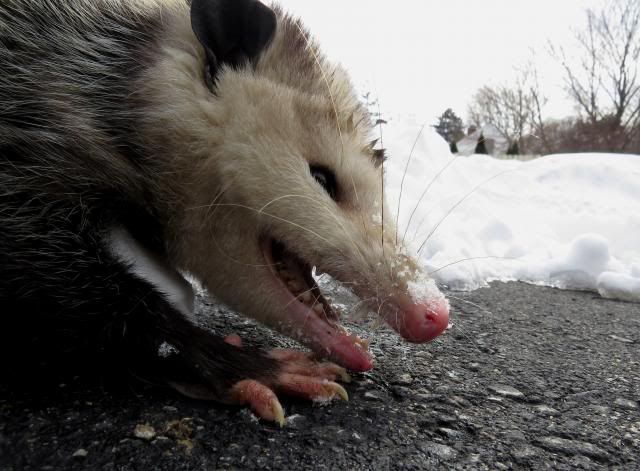 As stated earlier, not all individuals react the same way. Some not only will refuse to faint but will actually hiss and open up their formidable toothy maw as a threat. They never actually carry out this implied threat. Of course, if they did attack then it wouldn't be a threat any more would it? Any attacking 'possum would soon loose membership in the Marsupials of America Club.
This calls into question the whole necessity of feigning death in the first place. It is assumed that going limp will confuse predators who need to kill their own prey. Granted, any fox falling for such a trick would have to be pretty dense. It is likely that the act would only work if it is employed with the full stink, limp, I am truly dead and rotten scheme in action.
I ended my interaction with the semi-comatose and somewhat disgusted Opossum and picked it up by the tail and walked it over to the edge of the pavement. Cars do not recognize the difference between dead opossums, "dead" opossums, and bad actors.