In nature, things are always changing- beaver ponds to meadows, meadows to forests, Hanna Montana deteriorates into Miley Cyrus etc. Nothing really remains the same. Even sturgeons, those timeless bastions of bottom feeding, change individual form as they grow from fry to formidable fish. They also, like all organisms, go through daily and monthly changes depending on seasonal and courtship needs etc. In short, nature is a dynamic and not a static entity.
Much of the joy of nature watching revolves around observing both long term and seasonal changes. Of these two, however, seasonal changes are the most accessible for the curious naturalist ("phenology" for those of you working on a crossword puzzle). Birders are keen to minute plumage changes and some of them can get in an exhaustive description of a 2nd year Herring Gull before their first sip of Green Tea in the morning. Green Thumbers are all about growing seasons. A Brown Thumber, such as myself, is fully capable of sucking the joy out of a simple seasonal observation by encumbering the reader with extraneous details. It is time for me to do so again.
Let's take Cedar Apple Rust and Red Squirrels as two examples to illustrate "The Pageant –pageant- pageant Of-of-of Nature-nature-nature" (he says with a booming echo-chamber voice). These two are rarely mentioned in the same sentence but both organisms share a reddish coloration and a period of dramatic change over the past month.
I took a look at the Cedar Apple Rust gall in a previous blog and won't rehash the topic except to bring us up to snuff. The gall, a hard meteorite-like growth with multiple "eyes", is found on the branches of Red Cedar trees. It is the alternate stage of a type of apple rust called Cedar Hawthorn Rust which spends one year on the leaves of hawthorn trees and next few years as a gall on Red Cedar. It takes several years for the cedar galls to mature and during this time they remain relatively dormant. I left off with this stage in my previously mentioned blog with a promise that I'd come back when they explode. This spring, true to my word, I returned to witness this wonderfully odd transformation.
The Spring rains incite these galls to exude long gelatinous "horns" in the manner of a Chia Pet from Hell. These structures, called telial horns, bear millions of tiny two-celled spores which float off into the air to infect Hawthorn Trees. Over the course of the spring season, the galls and their crop of snot horns dry up and re-swell with each passing weather system – releasing a new crop of spores each time.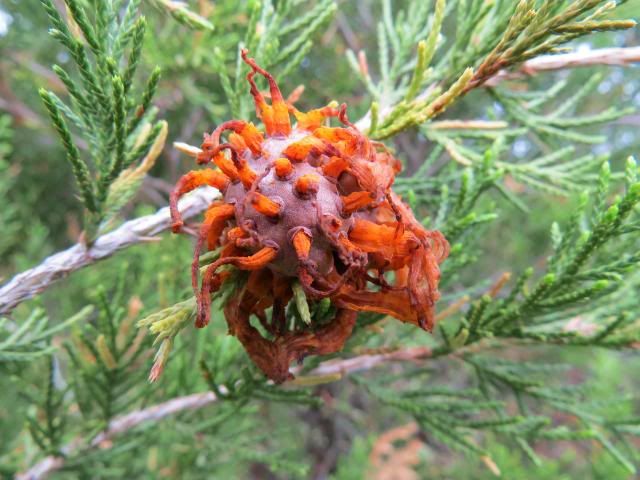 Each cedar gall is good for up to 10 releases before being tapped out. Because the cycle plays out again and again every year, you can catch the annual show if you time your visits properly. As in all cycles there are good years and bad years (which gives some hope that Miley Cyrus will outgrow her fungal stage and return to dormancy).
The spring transformation of the Red Squirrel is far less dramatic than the Cedar –Cyrus thing. As mammals these expresso charged little rodents run through an annual molt cycle. They undergo a fall and spring do-over. Again, I have addressed this before but I was so amazed at the sudden visible change in one of my Dollar Lake squirrel that I feel compelled to share it (and, of course, explain it until it is no longer fun).
Red Squirrels undergo a spring and a fall molt. The two occur in opposite directions. The fall molt goes basically from back to front while the spring molt goes front to back. A good way to remember this is to reverse the normal phrasing we use for remembering time changes thus: "Spring back, Fall forward." Remember this for it will serve you well in later life. This might be one of the qualifying questions asked by St. Peter when you ascend to the pearly gates.
Molting is a gradual process and hard to notice when in progress. It varies between individuals, but most Red Squirrels start spring molt by mid-April and complete it by June. Some individuals have yet to molt (as this backyard Red still in winter coat as of the last week of May). A comparison of the two pictures of my notch-eared friend, taken one month apart, will tell most of the story regarding the Spring molt. The first shot, taken in late April, shows the first stages and the second, snapped in late May, reveals a fully summarized squirrel.
You'll notice in the first shot that the squirrel was still primarily in winter coat with grayish brown sides, a reddish back stripe and tail, ear tufts, and a dirty white belly. There was only a hint of a dark side stripe. A closer look, however, shows that this animal was already in molt. The face and eye ring are already garbed in short hair while a fuzzy top knot of winter hair remains.
By the time I took the second shot, the process was complete. The animal was covered with short reddish hairs with a clear black side stripe bordering a bright white belly. This is a portrait of a summer squirrel.
We missed the intermediate stages of the molt, but I can tell you what happened. The change began on the nose, chin, and feet. The process is so consistent that it began on the front feet and on the inner edge of the hind feet. The sides of the head go before the top and the rest continues along the sides and back until ending at the rump (a natural ending for sure). Somewhere along the way the ears tufts are dropped.
So there you have it. A squirrel and a spore ball can give us a small insight into a massive world of natural change. I guarantee neither subject would have been brought up in polite conversation until now. It is your duty to carry the ball and tell them something that they don't really want to know.