I did several versions of a Chipmunk for my daughter's baby shower invitation and it took a while to decide on the final version. She insisted on a woodland theme for the arrival of this child (and when pregnant women insist on something it is smart to comply). This theme will continue into the decor of the baby's room and might even extend to the child itself. Who knows, he might be raised as a small woodland animal. If she and her husband start calling the baby's room a "den" or "burrow" then there will be cause for some alarm. As a career naturalist who raised his children in the "woodland ways" I just may be seeing my chickens come home to roost.
At any rate, the issue of the invitation, the cake, and the room decoration for the shower revolves around a nature/woody theme. As invitation master (a self-applied title) it was my duty to come up with an appropriate woody type product upon which the bare realities of "when", "where", and "for who" will be draped. It was not as easy as I had hoped.
Apart from the fact this was for a pregnant female – an entity pickier than even the biggest of corporate bosses – it also had to pass my muster. The primary issue was finding the right woodland creature and this demanded some research and inspiration. As you can see, I am not a "clip art" kind of guy.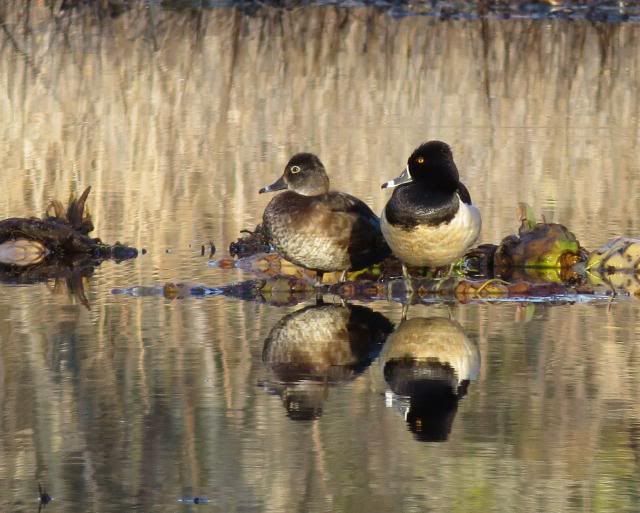 My wife and I opened up our tiny Dollar Lake cabin a few weeks ago. In that cozy woodland setting I figured there would be plenty of inspiration, and there was. Critters paraded by, as if on review, and vied for the cutest title. A curious Painted Turtle bobbed to the surface close to the dock, a beautiful pair of Ring-necked Ducks landed for a visit, and a busy Phoebe darted about for insects. All of these critters, while fascinating, are not really "cute" in the pregnant sort of way. Two of them don't even fit the woodland theme at all. I could make an appealing little Phoebe character but the grayness of such a bird rules it out. Sorry Phoebe, maybe next time when the shower theme is insect-eating birds.

I have a love/hate relationship with squirrels and there are plenty running around my home yard to provide ample opportunity for consideration. At Dollar Lake, however, the squirrels came in all shape and manner of being, so they had to be reviewed for their fuzziness factor. The black Gray Squirrel was just plain creepy and the Fox Squirrel just plain too fat. The Red Squirrel put in a very good appearance. I am partial to Reds, as you may know regarding my home yard squirrels, but this one was a stranger to me (and I to him).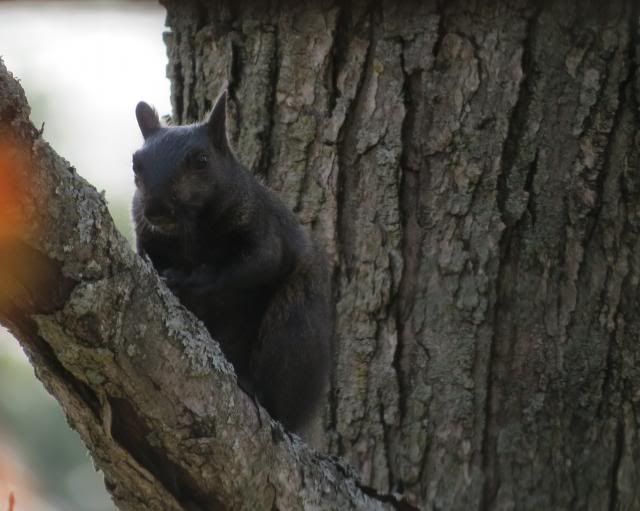 Perched in the White Oak over the shed, he displayed unusual patience when approached. A battle scarred veteran with a torn ear, he was appealing none the less. But, it was the resident Chipmunk that finally caught my eye. He ultimately won his place as the feature creature on the invitation.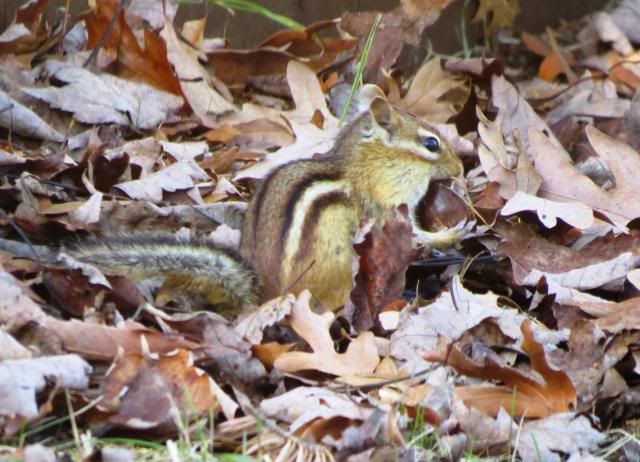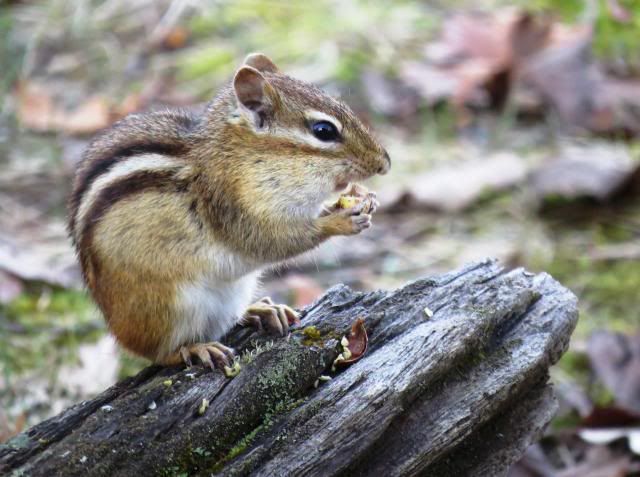 Cheeks fill with acorns he dashed to and from the shed. At one point he piled through the dry leaves and popped up with a prize nut which demanded immediate attention. He flittered up to the old pine stump by my porch and dismembered the acorn with great skill. Then he was off as if blown by a gust of wind.
The first cartoon version of this creature was cute enough – in fact it even passed inspection from the queen bee right away. I pictured a perky Chipper, cheeks chock full of nuts, and obviously very happy with his situation (in other words with lots of "gifts" lying about in the form of acorns). As art is was fine.

Unfortunately I was unsatisfied. It was cute but not "chippy" enough. Looking back at my photos of the cabin Chipmunk I was struck by the fact that these critters have very prominent noses. My first artistic chipmunk had a mere suggestion of a nose. No, my next effort needed an enlarged honker in order to pass my naturalist muster.

So, I re-did the thing and came up with Chipper no. 2. I was much happier with this version because it was a cartoon which was true to the animal depicted and, most importantly, it also received approval from the daughter. The invitations, complete with the honkier chipmunk, went out this week without further alteration.
I plan on releasing a live chipmunk at the shower. I'm sure the ladies, my woodland daughter, and future grandchild, will appreciate how animated an actual woodland creature can be in a confined space!