I have often referred to my Dollar Lake property as the "Kingdom of the Woodpeckers" because of the incredible variety and number of these birds which frequent the place. I'd call it Peckerwood if the dictums of society allowed. Over the course of an average spring/summer weekend seven different species have been known to visit the yard. With the exception of the northern ranging Black-backed Woody, this represents the full complement of woodpeckers to be found in the state.
While I'll admit that this is not a fact worthy of spraying a freshly gulped cup of coffee upon its revelation, I do think it worthy of minor mention in a minor blog such as this. Having established that I have been in the position of being a woodpecker connoisseur as of late, I will go on to say that there are layers of hammerhead appreciation. Yes, it is stupid to rank things but I have been known for saying stupid things and I must maintain my reputation.
My woodpecker ranking has nothing to do with inherent worthiness –it is, like wine, beer, and movie rankings, extremely subjective. Such lists often result in folks calling each other peckerwood due their obvious Neanderthal abilities in distinguishing the "crème de la crème" from the crap. I humbly believe you'll agree on my top choices regardless of your relatively density.
The familiar and delightful little Downy Woodpecker is at the bottom of the list only because it is familiar, little, and not uppy. Flickers (see top photo above) come in second because they are familiar and because they are flickers. Red-bellied Woodpeckers (see middle photo above) are next on the list followed closely by, and often interchanging positions with, Hairy Woodpeckers. Neither is well-named but that is not their fault. Yellow-bellied Sapsuckers (see bottom photo above), in position 5, are a personal favorite because of their name alone. For sheer wow-ness, Red-headed Woodpeckers are second from the top as the best-named of all birds. None, however, can exceed the magnificent Pileated Woodpecker for overall wow-ness.
For considering the top two woodpeckers on my list, this season has been a good one.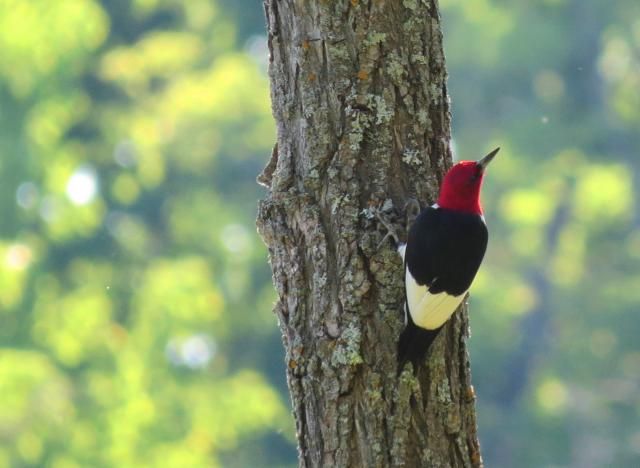 Either Red-heads are abundant or one individual bird is abundantly energetic because they (he) are (is) always around. Red-headed Woodpeckers are painted with broad strokes – their head is solidly red, their body white, and their wings starkly black and white. There is no barring or fancy pin-striping on this bird. When stationary upon the side of a tree they look rather fake.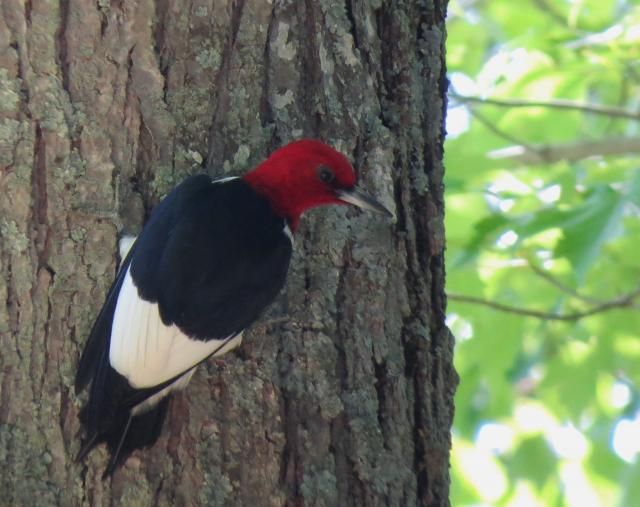 Red-heads are noticeable for their coloration alone, but their behavior also gives them away. They tend to veer from the normal woodpecker habit of tree banging for insects in that they also engage in aerial pursuits for their prey – acting much like a flycatcher. One bird flew back and forth low over the dock apparently trying to scare up a dragonfly or two. If these birds are ever embarrassed by such non-conformist behavior it never shows (because they already have red cheeks and…never mind).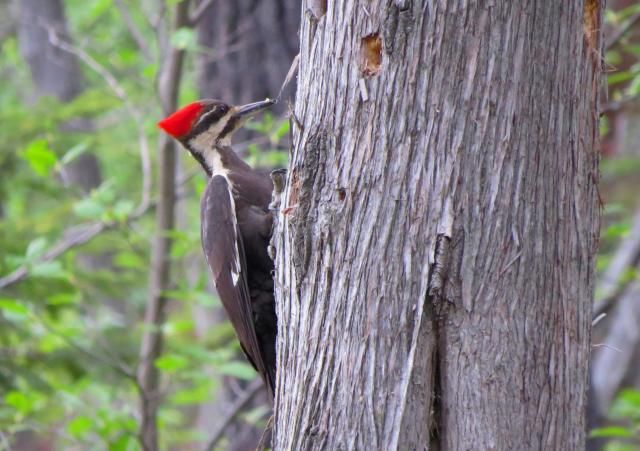 Pileated Woodpeckers are in a league of their own primarily due to their size and ghostly tendencies. It'd seem that the two don't go together, but one never knows when one of these giants will swoop into, or out of, view. It is easy enough to tell when Pileated Woodpeckers are in the neighborhood because of their distinctive tree-work. Excavating large square-edged pits, they can turn a tree into a good imitation of a towering skyscraper complete with multiple windows. They are not intimidated by the hard outer wood of a healthy tree in their pursuit of Carpenter Ants and wood-boring grubs deep within.
In my experience these birds will suddenly appear from nowhere. Occasionally they announce their presence with a horsey laugh (sounding very much like a Flicker call played on slow speed in front of a loud speaker) or you'll hear some resonate hammering (sounding very much like a carpenter whacking away on sill beam), but for the most part they just drift in and do their stuff. Much of their time is spent on fallen trees and stumps.
Crow-sized, Pileated are about 15 inches in length and marked with the usual black and white attire of all woodpeckers. Males and females look alike except that the males have a red mustache and the females a black one (no comment on females with mustaches, now). The first photo in this series is that of a female while the rest are males. The species name refers to the prominent red crest found on both sexes – from the Latin pileatus or "wearing a felt cap." You might be relieved (or is it re-leave-e-ated)? to know that this name can be correctly pronounced as either "pill-le-ated" or "pie-le-ated." French-Canadians simply call them "Grand Pic" and avoid the pronunciation trouble altogether.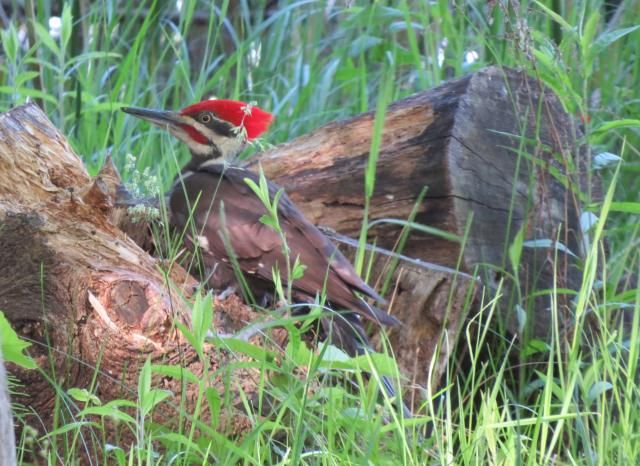 One of these magnificent woodpeckers came down to investigate our rotting stumps last week. He hopped from stump to stump before settling into spend a few minutes on one good ant-producing prospect. Once spotted, he paused, threw off a penetrating stare, and drifted into the woods. His unhurried manner of leaving suggested that she left of her own accord and not because of my presence. Yes indeed, this bird is top of the pecking order.