Piping Plovers are one of Michigan's most endangered birds. They are so rare in the Great Lakes region, in fact, that most of them bear personal names. This is not necessarily a good thing, by the way (you'll recall that the last Passenger Pigeon on Earth was called Martha and that Sue is a long-extinct -Rex!). Usually by the time people get involved with the fate of a species they are inclined to pin personal names on their subjects and mark them with colorful bands and tags. Therefore, like rock stars, these unfortunate critters are endowed with single names and lots of bling.
Although I didn't know it at the time, one of the Piping Plovers I encountered at Tawas Point State Park earlier this week was probably named L'oreal. Although, because she wasn't paired with Lancelot, I could be wrong. You see, it depends on your definition of yellow – I'll explain this in a minute. The only thing that really matters is that this bird, and her mate, are Piping Plovers and that they are freely running around on the Lake Huron Dunes.
  
Pipers are closely related to Killdeers. Like their larger cousins they have a ringed neck, dark forehead stripe, and only three toes. Unlike them, they are sparrow-sized, pale, and exceedingly rare. Against their chosen sandy background these diminutive plovers are nearly invisible. The two birds I encountered opted for high visibility in their effort to lure me away. Their earnest "peep-lo" calls punctuated the morning air and they skittered around the beach grass to catch my attention.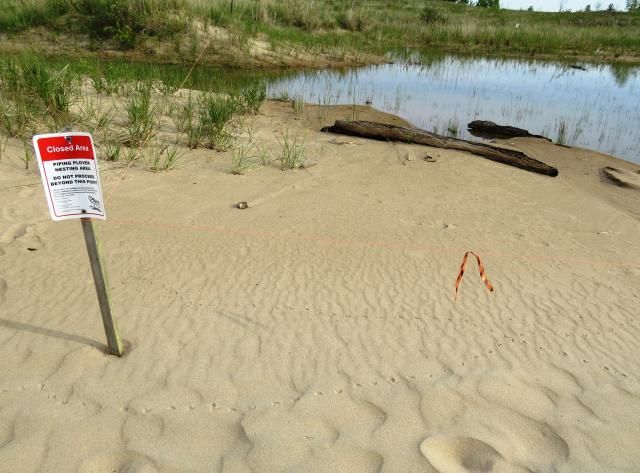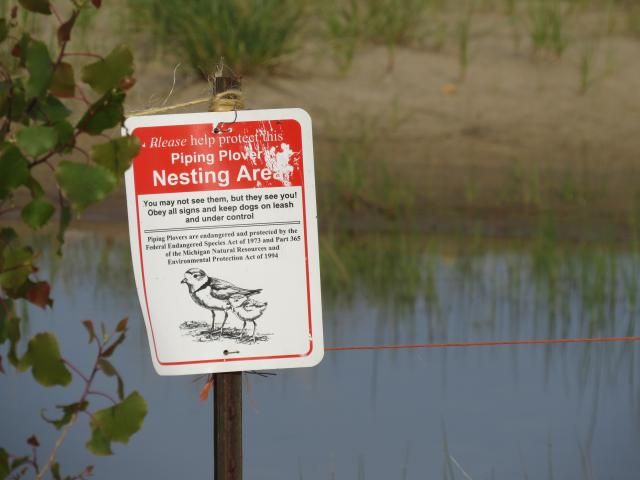 Their efforts were not necessary in this case because their territory was clearly roped off and designated as Piping Plover habitat. I was outside the perimeter and the threat of federal law was enough to keep me there. Both birds settled down after a short while and one of them, the one I'm calling L'Oreal, snuck back onto her nest. A predator proof wire frame, with spacing just large enough to allow her passage, surrounded the site. Her nest, if you could call it that, was a mere scrape in the sand and is the reason this caged bird sings.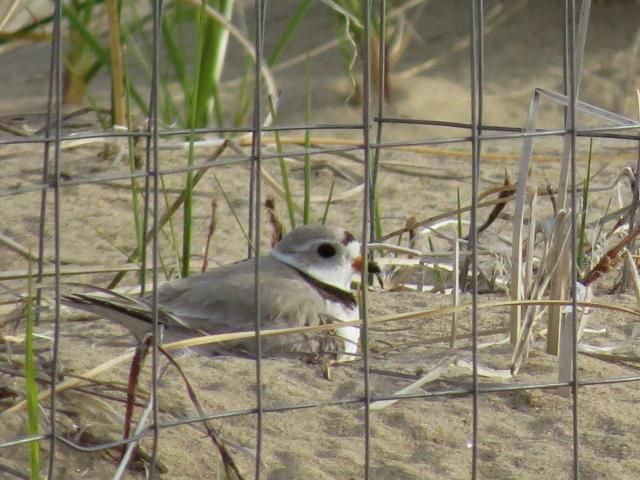 Looking over my photos after the fact I was able to see the multiple leg bands on each individual. John Audubon could hardly have imagined what his simple thread-tied Phoebes hath wrought. Not only are these birds marked with a standard aluminum identification band, but are also marked with brightly colored location and brood bands. If they had external ears I'm sure these would be tagged as well. This system, along with the wire cage/perimeter system is consistent with Piping Plover programs across the country. In monitored populations, like that at Tawas, the chicks are banded soon after hatching.
One bird had a high orange tag along with a black & green band on her left leg (see beginning photo and No. 3). The right leg had a high metal band with a pale ankle bracelet. The other bird (see above) had the high orange tag on its right leg along with a black and green band below the bend. The left leg was doubly banded with aluminum and green banding. The first bird matches the band sequence of L'Oreal. The pale ankle band, unfortunately, was a problematical faded yellow so I'll have to add a caveat to my "expert" opinion. It could be dirty white.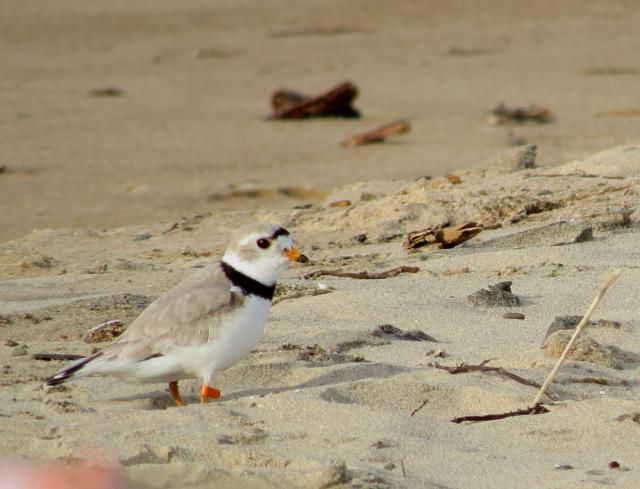 Let's just suppose that I am right. This is not always a good thing to do, but let's use this as an example of one piper's life even if it is not the pictured fowl. L'Oreal – so called because "she's worth it" (hats off to the team member that came up with that one!) – has been around for at least three years. For the past two she has nested at Tawas Point with Lancelot and successfully raised multiple chicks each year. She's even been recorded overwintering in Georgia. That the other Piping Lover of the pair is definitely not Lancelot (who is a "right orange, green, orange and a left metal, yellow") brings up some interesting possibilities which only his hairdresser knows for sure. Actually the state Piping Plover co-coordinator probably knows.
There are three main Piping Plover breeding locations in North America. The main population is found along the beaches of the Northeast and it appears to be the healthiest. Another group sets up shop in the northern Great Plains.
The Great Lakes population is the smallest by far. From a low of only 17 Michigan pairs in the late 1970's, this number has slowly climbed over the years and today there are at least three times that number of known breeders. There were 45 chicks produced in 2012 and high hopes for more this season. Eight chicks were fledged at Tawas last year alone. Most of this success can be chalked up to the gallant efforts of conservationists and volunteers watching over them – you know those people who put names and tags on these birds.
Historically Piping Plovers were never common on Michigan's beaches, or along any of the Great Lakes for that matter. Biologists estimate that only 600-800 pairs nested here in their heyday. Shoreline development certainly is to blame for the bird's accelerated plunge over the brink within the last 100 years, but there was something else going on long before our arrival on the scene. Nature has a way of putting animals in their place and often we are not privy to that information. That probably means that even with a wildly successful preservation program Piping Plovers will always be rare. At least it is safe to say that they will always be special and all of them are worth the effort.