Apart from the increasing clumps of white birch and abandoned snowmobiles, dead roadside porcupines are a sure way to mark one's passage into Northern Michigan. It is near impossible to travel over the "quill line" without spotting at least one or two lifeless bristle mounds on the way to your final destination. It would be easy to assume that these large rodents are born dead on the side of the road if you are not a resident.
Even though I have spent considerable time in porky country and the critters are extremely common, I'd never seen a live porcupine. The fact that they are primarily nocturnal certainly influenced the situation as well. The animals were burned into my young mind, however, thanks to the tales of a favorite uncle. The Boyer side of the family lived on Sugar Island, located on the St. Mary's River at Sault Ste. Marie – literally spitting distance from the far-away land of Canada-da-da-da.
My Uncle Dan went through several dogs over the years and not a one lived a full life that I recall. Whenever one came back quill-ridden, due to a disastrous encounter with a porcupine, it was "taken for a walk." Uncle, the dog, and a rifle entered the deep woods behind the shed and only uncle and the shotgun returned. So, in a way I learned that porcupines kill dogs with a rifle. I was never there when these things events happened but heard about them several times over each summer's visit.
Secretly I wondered if I would be taken on a similar walk if I ever got quilled. I dreaded a porcupine encounter and for over half a century never had to deal with it. By the way, I've since found out that most quills can be extracted safely without the use of lead, but that is irrelevant at this point.
A long-feared event finally took place at our Dollar Lake cabin a few weeks ago. A Porky ambled into the yard and I ambled out to encounter it. My uncle having passed away many years ago (and in heaven, no doubt, after a brief time in purgatory), I felt safe. It was a completely serendipitous occasion, but fortunately I was ready.
The animal, a small one by quill pig standards (they can get up to 30 pounds), was intent on crossing the yard along the lakeside. It was caught off guard by my appearance and indignantly rose up on his hind legs to look at me with a "really?" look. After casting a longing glance over to where he wanted to go, he turned back to look where he'd just come from and apparently made a decision to retreat. Acting in slow motion, he dropped back on all fours, turned his rump in my direction and bloomed. Yes, he bloomed.
The transformation of a porcupine at rest to one in defensive mode is a remarkable thing. By tightening the skin on his hind quarters it raised a ring of extremely long hairs to expose a formidable patch of quills hidden beneath. White quills, contrasting with the coal black underfur surrounding them, lined both sides of the tail and created a menacing rump crescent. The porky waited for my next move – knowing full well that if I chose to molest him I would pay a price. His whole demeanor was that of bored confidence ("if we both just go our own way things will be o.k., so how about it?").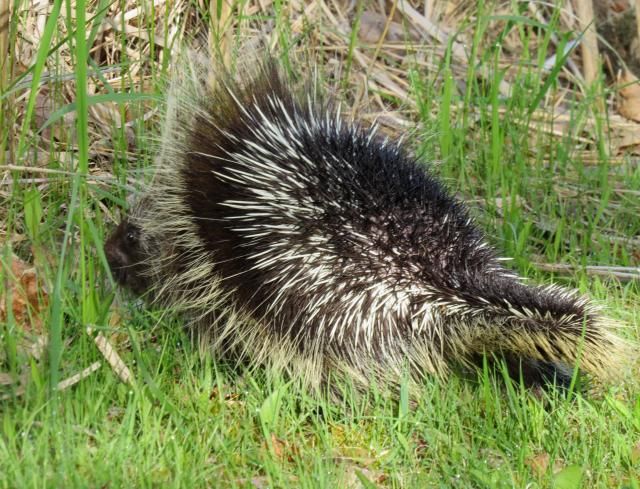 According to the literature, the average porcupine has over 10,000 quills. The longest, at about 4 inches, are located on the rump and the shortest are on the sides of the head. There are no quills on the belly at all and this has long been the attack point for predators such as Fishers.
Each quill is a hollow modified hair. The tips are equipped with multiple backward-facing barbs. As my uncle could have told you, once these barbs gain access to dog flesh they will work their way in until…well, lead poisoning results! Like I said before, they can be removed if "deflated" (cut) and firmly pulled. The porky doesn't throw these quills at their attacker. They are loosely attached to the skin via a narrow base and they detach as soon as the tips come in contact with the enemy.
Native tribes made heavy use of porcupine quills for decorative purposes. Before the advent of European glass beads, these plastic-like hairs were dyed and sewn into fabric or birch bark to create stunning designs. Gathering quills was relatively simple because porkies are slow and easily clubbed (quills are no defense against large sticks).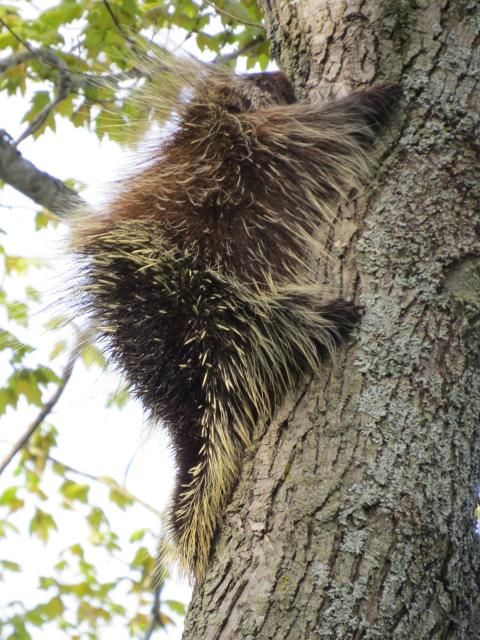 After holding his threat pose for a minute, my porky turned back and beat a retreat through the cedars from whence he came. It was not a hasty retreat by any means; in fact I believe an opossum might have a speed edge over a running porky. I will admit that it must be hard to keep your butt skin tight while running and I probably should cut this porky some slack. We'd have to pitch an un-armed porcupine against an opossum sometime to see who would win such a foot race. If that race was across a road, I'd wager both would be creamed before reaching the other side, unfortunately.
The porcupine sought safety in a maple tree which he scaled with bear-like ability until reaching a high crotch. Finally letting his quills down, he settled down to wait out the threat. Even though I wasn't present for most of the time, he remained there for over four hours before descending. As a final wager, I'd bet that this porky did not enjoy his encounter nearly as much as I did. In fact I'll bet he dreads it.