When the small Redbud tree/bush in my backyard sprouted thorns, I was delighted. Redbuds, known for their lavender spring flowers and symmetrical heart-shaped leaves, are not known for their thorns at all. In fact, these plants never possess real thorns – their branches and leaves are as smooth as a baby's bottom. Some individuals do support mobile thorns from time to time and my pitiful little example tree was just such an individual. This, of course, I should explain.
The "mobile thorns" in question are insects called treehoppers. Specifically they are called Two-marked Tree Hoppers. One look at the adult coloration should provide enough explanation for the name (they have not one, not four, but exactly two yellow spots on backs). These critters, if not having a Masters degree in camouflage do have a two year Associates in the Arts. They avoid predator detection by pretending to be thorns instead of the succulent little juice boxes that they are. This deception would probably be more effective without the two-spot decor calling out for attention, but I suspect this was due to some ancient tree-hopper union specification and that I should not judge. Their ploy is good enough to work most of the time whereas I can't always say that about my attempt to be a normal human being.
This species has a tall flat projection coming off of their thorax that performs the role of a "picker". The outline of the head and wing covers, neatly tapers along the lines of the base of this pseudo thoracic thorn. The legs, all six of 'em, can be tucked out of sight so that the edge of the body armor can merge seamlessly with the branch.
Behavior has a big part in pulling this fakery off. Thorns don't move. Even though these tree hoppers can walk and fly, they chose not to do much of either. Instead they perch motionless on the plant stems most of the time just like the real thing they are trying to imitate. They orient themselves on the steams so that the points are directed downward, or inward, and when perching in group they all orient in the same manner (lo to the little fake thorn that chooses to point the other way).

This inanimate act, like the camouflage itself, is not perfect. When approached, or touched, Two-marked Tree Hoppers will shimmy to the opposite side of the twig and will continue to do so until a.) the threat is gone or b.) they are eaten by a predator who has at least an Associates degree in camouflage detection (or fake thorn detection) or c). they attempt to fly away and are eaten by a predator with only a 3rd grade education.
Those females who survive, and are lucky enough to mate with a male thorn, lay their eggs just under the surface of the twig using a saw-like ovipositor (egg laying tube) to insert her cargo. The nymphs, looking like the cicada relatives that they are, emerge and seek out the tender leaf stems where they insert their needle-like mouths and drink of the plant's sap. It takes about a month to achieve adulthood, so these non-thorny young'uns seek the underside of the leaf for protection. They have a small nubbin of a fake thorn but this is not enough to be considered a thorn except by the dumbest of predators. A few were tended by ants which were milking them for the honeydew secretions (see below).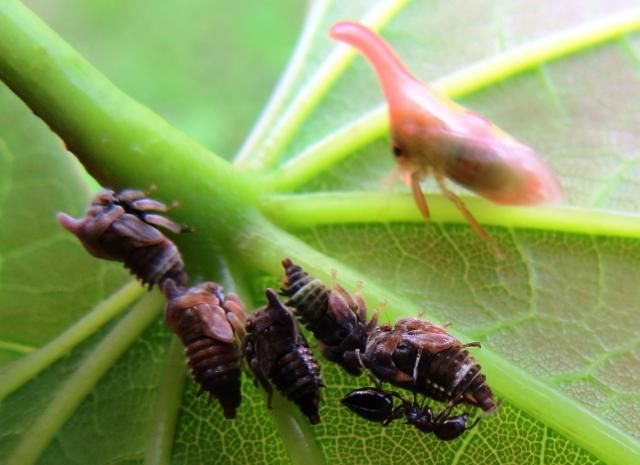 It is interesting to note that the nymphs line up just like their adult counterparts, even though it is for a different reason. The nymphs line up along the mid-rib of the leaf like Kindergartners queuing up for lunch (except that they don't argue amongst themselves as to who is the line leader or the caboose or who took cuts or…)

When the magic day comes, and the nymph is ready for adulthood, they shed their final skin and walk out into the world with a glorious fake thorn. At first they are pinkish white but this soon darkens into the purplish black of maturity.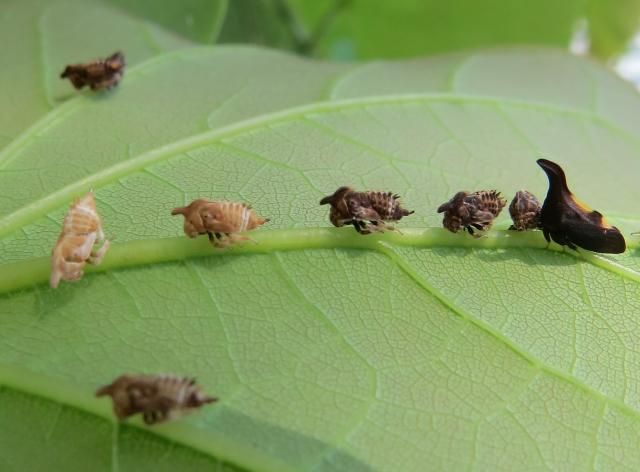 You'd think that all this plant sucking would harm the host Redbud (they also feed on Black Walnut, Shagbark Hickory, Willow, and numerous other trees) but most trees are man enough to take it. My little Redbud is taking its cargo of thorns like the little man it is. Well, actually it is not a little man but because the thorns on it are not real either, we can pretend.