Even from behind the steering wheel I could see that the caterpillar crossing the road ahead of me was a whopper. We were on 131 heading north through Mancelona, MI and the pre-labor day traffic was fairly light. I hastily pulled off to the shoulder to get out and snatch the critter from the blacktop but had to wait out an on-coming pack of cars before I could make my grab. Fortunately most of them veered into the left lane as they passed me and therefore missed the caterpillar. The last one, a camper unit, barreled past within the lane and the resulting gush of wind spun the 'piller around and tumbled it head over heels down the road. I was there to pick it up after the dust cleared and was glad to see that the object of my attention was unhurt.
Although the creature spit up a bunch of defensive green goo into my hand to reward me, my actions were well worth the effort. The glorious three inch creature within my palm was a fantastic looking – yet unknown – type of sphinx larva. I was thinking Galium (Bedstraw) Sphinx but would have said so only if pressed (my wife didn't press, so my ignorance remained safely concealed). Full identification had to wait until I reached an internet connection. Years ago I would have consulted my tote-along trove of field guides, but modern times require modern means. As it turns out, only this modern means could have provided the answer. Not only was this an imported species but was also a brand new addition to the state list. It was a Spurge Hawk Moth (aka Spurge Sphinx).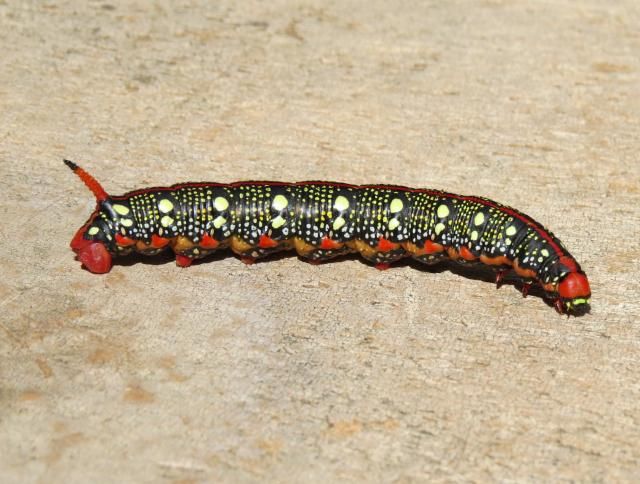 A native of Europe and northern Asia, this insect was deliberately introduced to North America to control a pesky plant called the Leafy Spurge. The aggressive Spurge was accidently introduced back in the 1800's and has had a devastating effect in the western grassland states. It was first recorded in Michigan in the 1880's. A litany of six insects, including a variety of beetles and a gall midge have been – and still are – being considered as biological control. The Spurge Hawk Moth made the short list and was tapped as part of the first wave of attack on the Leafy Spurge (it's sole food plant in Europe). Goats are also very good at munching down on leafy Spurge, although they are good at munching down on a great many other things as well. The sphinx is a specialist.
Most of the introductions were in the western states, but there was also one in Ontario a number of years back. Unfortunately, Even though this hawk moth larva is a voracious Spurge eater it appears that it has had little real effect. At the very least it provides a colorful new member of our local fauna and one which, more importantly, doesn't compete with any native insect.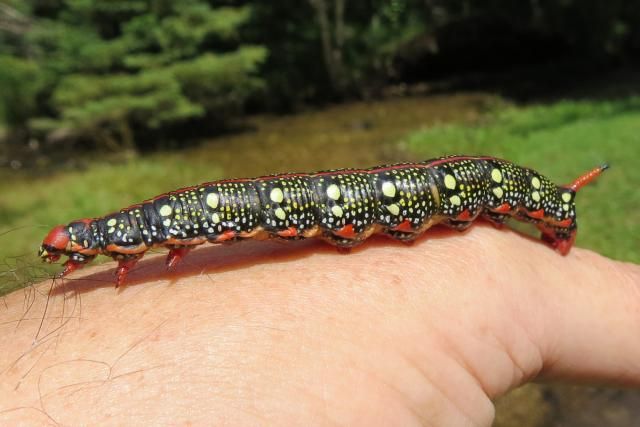 The first recorded sighting of the Spurge Hawk Moth in Michigan, according to the MSU extension site, was on June 10, 2013. That individual was an adult captured in the Grand Traverse area. Some more larvae were spotted a month later in Leelanau County. This summer another blogger reported a caterpillar west of Gaylord. Antrim County, the location of my find, is in the same general area as the previous sightings but indicates a slow but steady expansion of range. By virtue of its late summer timing it also proves that these insects are double brooded in this state. I guess my posting makes for the forth "official" record and a spot on the meaningless achievement hall of fame podium!
The Spurge Sphinx larva does look very much like the Galium Sphinx and certain varieties of the White-lined Sphinx but tops both in sheer gaudiness. The horn and head are scarlet, and the rest of the body is speckled with black, red, and white markings befitting a "radical" snowboard or fashionable scarf design. Perhaps this is why it has chosen the trendy Grand Traverse area for its step into society!
The reason this gaily patterned sphinx was crossing the road, unlike the famous chicken of joke fame, was to get to the pupation side. It appears to be a full sized individual. Younger larvas are darker and each instar has a differing color pattern. From what I can tell this fellow was ready to take the next step. For now the caterpillar resides in a dirt-filled Styrofoam coffee cup prepared as a pupation chamber. It will, assuming it behaves in line with virtually all sphinx caterpillars, burrow down into the sand, split its layer of bright attire, and convert into a sleek pupa. There it will stay until emerging next spring as a third generation Michigander.