Epidomax flycatchers, fall warblers, and immature birds are the bane of any birder's existence. Lack of distinctive markings or "Jekyll and Hyde" seasonal plumage traits are enough to drive one into madness. Yet, because birders already live on the fringe of madness they accept, and even thrive upon, such challenges. Splitting feathers is both an occupational hazard and an essential part of the game. Since I avoid fall warblers like the plague and look the other way when any small greenish flycatcher shows up, I am left to deal with those immature birds.
Basically full grown in size, yet lacking full adult plumage, immature birds are like unfinished paintings of the birds they represent. True to the term they represent young birds not ready for prime time. Depending on the species these can range from hatching year birds which convert within a season (perching birds, woodpeckers, ducks, etc. ) to those taking several years to attain full plumage (eagles and gulls, for example). Often these young birds have the general adult look in terms of size and profile but are attired in a different cloth.
I have offered examples of young Pied-billed Grebes, Red-headed Woodpeckers (see above left) and Turkeys (see above right) in previous posts. Of these, the Pied-billed immature (see below) takes the cake in terms of taking on a radically different look from the parent (in other words the one that looks suspiciously more like the mailman than the husband).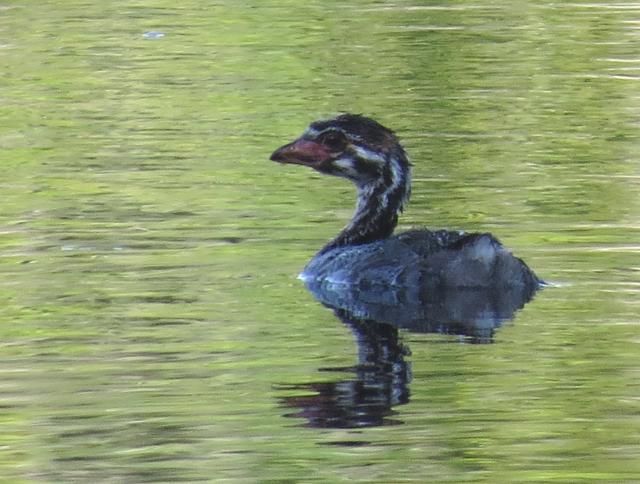 This time, I'd like to present two additional immature examples just for the sake of discussion. The first is a well-named woodpecker and the second a very familiar duck. Let's look at the duck first.
While at the Bay City State Park Waterfowl Festival I decided to walk one of the nature trails. Volunteers had previously set out various duck decoys in the water adjacent to the trial route as part of a duck I.D. activity that originated at the festival. There were numbered stations and numerous floating decoy examples which required identification. Closing in on one station I saw a few mallard decoys in the water and another, a less-than-convincing female Wood Duck, cunningly perched on the limb of a downed tree arching over them.
Soon, I noticed several other "woodies" scattered about on the tree trunk just above the level of the duckweed covered marsh. Again, all were in un-finished condition. The male birds especially lacked the brilliant hues and crest of adult Wood Ducks. The uppermost decoy took me aback when it bobbed its head and shifted pose. It turned out that she, and her fellow ducks, were real flesh and blood Wood Ducks after all. I could only see two of them clearly but there were at least six of them.
From the time they leap from their nest hole, young Wood Ducks are constantly attended by their mother. The adult female sticks with her brood for at least 4 weeks – after which the bond slowly dissolves and the young are left to fend for themselves. They take about 6-8 weeks to fully fledge and hang together as a unit for an extended time. My living decoys represented birds fresh into their motherless phase of life and well on their way to independence.
The scattered universe of head speckles on the immature female (see above) were in the process of congealing into a clear white eye ring. Her breast speckles were starting to arrange themselves into the neat ranking of adulthood. Otherwise she looked very mature for her age (isn't that always the case!).
The male bird, on the other hand, was still in the dork stage (see above). His white chin straps were barely defined against the fuzzy pale brown head feathers. There was only a hint of a crest present and the flanks were still dark. This bird did have the beautiful red eyes and a wonderfully ornamented black, pink and white bill that would later define him as among the most beautiful of waterfowl.
My encounter with a woodpecker of unknown species was of a much shorter duration than the woodie encounter. Had I not snapped a few quick shots before the thing returned to obscurity in the nearby woods, I would have been left clueless (more than normal that is). Before me was a speckled medium-sized woodpecker with a brown head.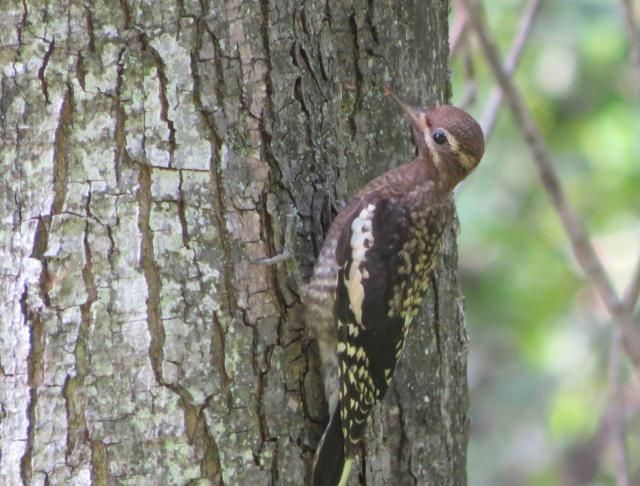 It took a while to figure out that this sleek little fellow was an immature Yellow-bellied Sapsucker. In retrospect (thanks to the miracle of photography), I could see that the distinctive white shoulder stripe – a defining mark for adult Sapsuckers – was present. The color of the head and upper shoulders was purple brown. Black was gradually replacing the brown areas from back to front like ink bleeding across wet paper. There was nary a trace of any red head markings on the head. It seems that this part of the plumage (males are identified by their red throats), along with the yellow belly, develops last and so this bird will remain a genderless little sapsucker for now.
By the time the migration season begins in late September, both the woodies and the sucker will be properly attired according to their sex and species. I will not recognize these fuzzy headed youth when they return in the spring resplendent with full coloration and the bloom of maturity.