I'm pretty sure that women don't like the phrase "honey-do" list. It universally implies a litany of "bothersome" husband oriented tasks, assigned by an "overbearing" wife, nearly always involving tools, sweat, and "easy" weekend projects such as replacing a patio and building a new one. I am not here to argue the merits of this phrase, or lack-of same, because I am one of those husband type people looking at his 35th…er, 36th year of marriage and would like to celebrate our 37th. No, I am here to present another type of honey-do list which is performed exclusively by, and pretty much only for, females. There are no delicate issues to dance around on this one. I'm talking about aphid farming, ya'll.
Many species of ant engage in livestock farming. The activity is performed exclusively by the female workers for the purpose of maintaining and harvesting Honey Dew for what is basically an all female colony (the male drones only enter the scene later). The gang of black ants living in my…excuse me, our (sorry honey) yard at Dollar Lake are so engaged in this pastoral pursuit. Their pasture consists of a small bushy Balm of Gilead tree about ten feet from their door and about 50 feet from ours.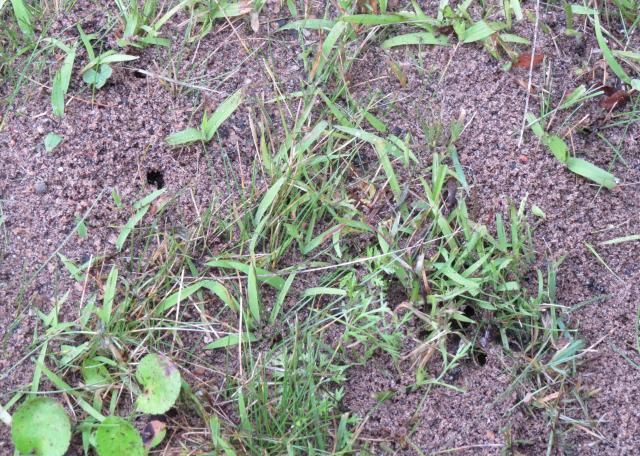 The cattle in this farm setting are aphids, aka plant lice. These sucking insects feed on the sugary plant sap. Because this fluid is low in essential Nitrogen, they must consume a whole lot of it in order to gain the essential amount of this chemical. This means that much of the sugar is excreted as waste – aka sweet pee or honey dew.
The sweet-loving ants harvest this crop in the manner of a dairy farmer milking his/her herd, although the details differ. Individuals will approach the hinder end of a fat little plant louse and tap it with their antennae. The aphid is thus prompted to produce a juicy bead of honey dew in response. This nectar the ant eagerly drinks and eventually transfers to other ants in the colony.
The ants are, for lack of a better name, Black Ants. I must resort to this generic description because I do not know the exact species. Of course I did not name the aphid species, but no one seems to care about that. Unfortunately, most folks don't ask about ant types either. This is not a good thing, but I must not be hypocritical here. Except for Carpenter ants, Wood ants, and Auntie Em, my knowledge of ant species has remained fixed since a child. Back then there were only two ants in the world; black ants and red ants. One fought the other and that was that. Given that there are well over 12,000 species of ants in the world I suppose I could be forgiven for passing over this part of the discussion for the sake of the presenting the bigger picture.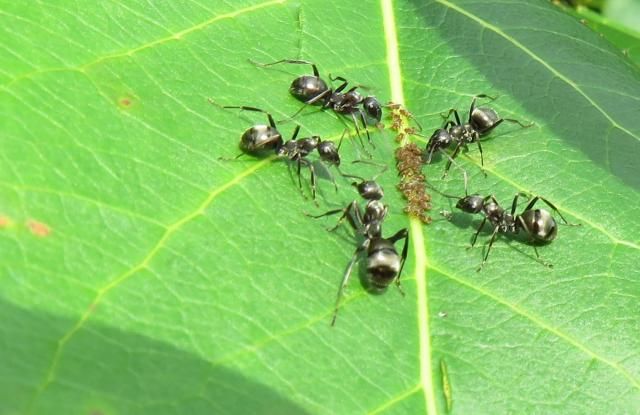 This basic aphid/ant interaction certainly benefits the ants. At times it may seem like a one-sided interaction because a few of the aphids occasionally serve as meals on wheels. Just like human dairy farmers who regularly send some of their animals to slaughter, ant farmers eat a few of their aphid charges from time to time. The aphid colony, in spite of these occasional individual sacrifices, do ultimately benefit from this arrangement. Beyond performing the obvious waste disposal service (preventing fungus formation in certain cases) the ants serve as shepherds. They vigorously protect their precious aphids from wandering predators such as ladybug larvae and wasps. In other words, more aphids survive under antcare than without. Since both sides benefit, this type of plus-plus interaction is called mutualism (or symbiosis if you prefer).
I stand on the shoulders of others – or under their feet – when it comes to explaining the realities of aphid farming. I can claim little more than observing big insects surrounding clusters of tiny weak ones. Researchers have spent long hours investigating this phenomenon. One of the more fascinating aspects, involving the use of chemicals agents, was investigated by a team from Imperial College London, Royal Holloway University, and the University of Reading. Not only do some ants keep their charges in line by physically moving and herding aphids, but they also lay down chemicals with their feet that act as invisible fences. Aphids attempting to cross over these chemical fences were observed to significantly slow down as if they were treading on fly paper. There is also some evidence that other "semiochemicals" exuded by the ants prevent mature aphids from sprouting wings and flying away (which is how aphid colonies spread).
Such a complex interaction, taking place but a few yards from my door, is worthy of much more discussion but I must end it for now. You see I have a few honeyd….er, things that I must attend to.