Second nature: natural observations made with little effort and requiring little explanation. While nature appreciation should be second nature in the true definition of the term, it can also consist of observations made within a short period time. Ideally nature study should not be constrained by time but the real world demands otherwise (assuming you are a participant in the real world). So, the challenge is to see what we can see given the time we have to see it. Sometimes literally seconds are all we get, but that often can be enough.
Because of a busy week (including the birth of a grand child) I was limited to short term ramblings in my back yard and thus the birth of this "second nature" segment. There will be more.
I came upon two wasp-mimic moths within a few minutes and a few feet of each other. They were hanging about on the vegetation bordering the yard. These creatures are unusual in several respects. As moths, they are double weirdoes. Most moths are creatures of darkness which fly and feed by night. Aided by the protection of camouflage they rest by day. Wasp mimics are daytime fliers who blatantly call attention to themselves. They display wasp features such as narrow, partially or wholly transparent wings, and spastic type behavior.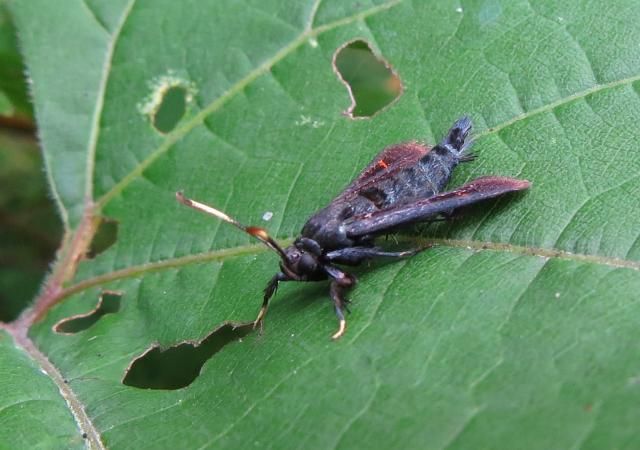 The Virginia Creeper Clearwing (see above) is a middle-sized moth whose dark coloration gives it the appearance of a paper wasp. When approached it raised its abdomen, as if to present a "stinger," and twitched both yellow tipped antennae as if to say "I, sir, am a wasp and you will not bother me or else…)". The threat is implied subtly because most predators require little in order to be convinced that an easier meal is to be sought elsewhere. This façade quickly breaks down upon a closer look which reveals a very moth-like face, fully scaled set of forewings, and a harmless behind. As a larva the Clearwing bores into the roots of Virginia Creeper. Oddly enough the species name is Albuna fraxini. The species portion of that name (the second half) refers to Ash trees even though the thing apparently has no relationship with ash trees whatsoever.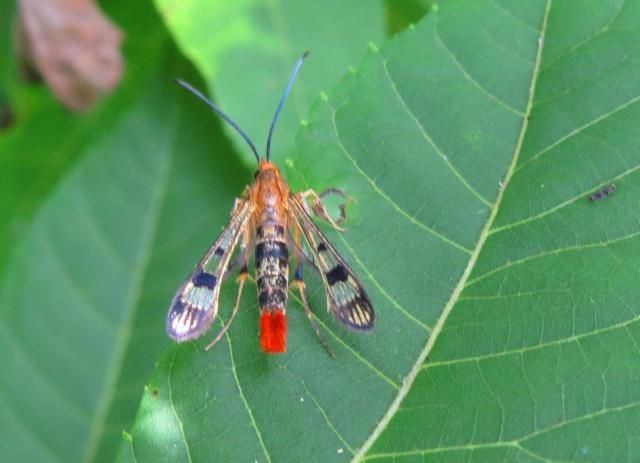 A few feet over, I came upon a spritely little Maple Callus Borer (see above). In the same family as the Virginia Creeper Clearwing, this species sports completely clear fore and underwings ornamented with scaled stripes. Both the common and scientific names are appropriate in this case. It too is a youthful borer whose larvae feed upon the cambium layer of maple bark. The species name acerni means "of maple wood" and the common name details the larva's propensity to burrow near tree wounds (and thus creating more calluses).
The most distinctive feature of the Maple Callus Borer is the scarlet tuft at the end of its slender abdomen. This spritely little day flier seems to hop about as if propelled by these imaginary rocket flames.