It is easy to imagine the inner working of a squirrel's mind. They can be excused for being continually distracted because nuts must certainly dominate their thinking. Why else would they stop in the middle of a street in the midst of heavy traffic? "Nuts, cars, danger, nuts, nuts, nuts, cars, nuts…" is not a healthy thought pattern (and one that usually ends tragically after the fourth "nut.").
It is unfair, of course, to pursue this line of reasoning. Squirrels are multidimensional being – not as fascinating and deep as wolves or chimpanzees perhaps, but complicated in their own way. They are not all about nuts and would likely go nuts eating nothing but nuts. During the summer, when nuts are scarce, they become fungal connoisseurs and actively seek mushrooms.
Given that many of the top chefs in the world are fungal connoisseurs and are well respected for it, our bushy-tailed rodent friends are certainly worthy of elevated human perception. I wonder how many great chefs have been hit by cars when pondering culinary thoughts and ignoring traffic? This would be worth investigating. But I diverge.
The mushrooming skills exhibited by the local Grey Squirrels are something to behold. They eagerly devour any 'shroom that dares to poke its gilled head above the ground and, I must say, look refreshed while doing it. I wouldn't dare suggest that mushrooms often have a nutty taste lest any nearby squirrel goes postal at the mere mention of the word "nut" (at least in the month of July and August).
I am unwilling to taste the mushrooms that the Greys are currently harvesting in my yard. I therefore will not have to put myself in the position of declaring their nut-like taste. By general appearance they seem to be members of the Russula family. This large fungal group runs the gamut from being highly edible to bland to poisonous in terms of human consumption. The mushrooms in this squirrel discussion are gilled and have large reddish caps, easily crumbled, which are somewhat turned up at the edges on larger specimens. These caps are sticky and shiny when wet and often have pine needles or detritus sticking to them. Overall, this description matches that of the Blackish-Red Russulas (by the way, this is their actual species name and not one I just made up). It's probably not worth mentioning, but this species is not poisonous but relatively inedible due to its "acrid taste."
Our taste is has nothing to do with squirrel taste. Oddly enough, squirrels have no aversion to poisonous mushrooms so this is a moot point when it comes to edibility. One species of Russula, the Emetic Russula, is quite poisonous to humans but is eagerly eaten by Red Squirrels without effect (well, other than leaving them with a sense of satisfaction).
There are several color varieties of mushroom-eating Grey Squirrels about. All are the same species, but several are black and one is a "normal" reddish brown grey squirrel (or is it a blackish-red grey squirrel?). There is no particular modus operandi when attacking mushrooms, although they seem to go for the caps. One of them hung upside-down while devouring his prize while yet another served it up on the ground. It held the outer edge of the cap like a wheel and took bites out of the rim as it rotated. Sometimes they will simply take a few bites out of a standing mushroom and leave it in place.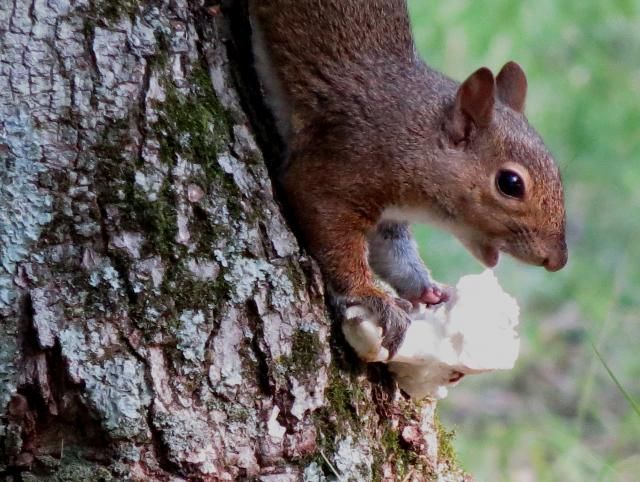 I'm not sure why, but these fellows never seem to finish a whole mushroom. Often they'll drop one, half consumed, and then move on to other things. I suppose it could be due to a mental distraction – perhaps feeling the sudden urge to cross a road or stopping to check the status of the ripening crop of nuts, but I'll give them the benefit of the doubt. It is probably due to the sheer abundance of the fungal treats and is equivalent to an overindulgent child leaving the pizza crust.