Second nature: something that should be natural and easy to do –such as a short piece on a small subject based upon a few moments of nature observation. Get it? Second, as in part of a minute, and…never mind.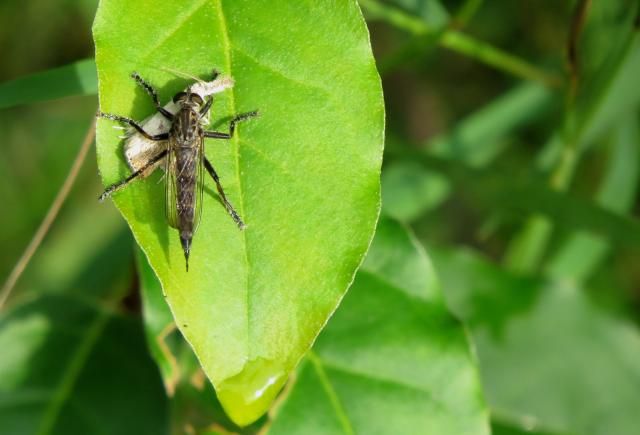 A large golden fly landed on my arm as I was standing on my Dollar Lake dock. The thing was so bizarre looking, and appeared so suddenly, that I briefly thought it to be some sort of twisted "bluebird of happiness." I would not have expected a long-legged, hunchbacked, fuzzy yellow insect to be a bringer of fortune but at my stage of life I am open to suggestion. Unfortunately it took off and briefly landed on the dock before vanishing into thin air. I actually felt slightly sadder after the encounter, and so conclude it was merely a "fly that reminds people how average looking they are."
This was no average looking fly, however. Called a Hunch-backed Bee Fly, this critter is a member of a group of so-called flower flies. The adults feed on nectar and the maggots steal food from solitary wasps. Hunch-backs specialize in coneflowers and daisies. I guess that my cone-shaped head must have tricked it into approaching me. Apart from the legginess and humpiness of this individual, the peculiar antennae are worth noting because of their un-flylike length and fuzziness. In some texts they are sometimes referred to as scalehorn flies for this reason.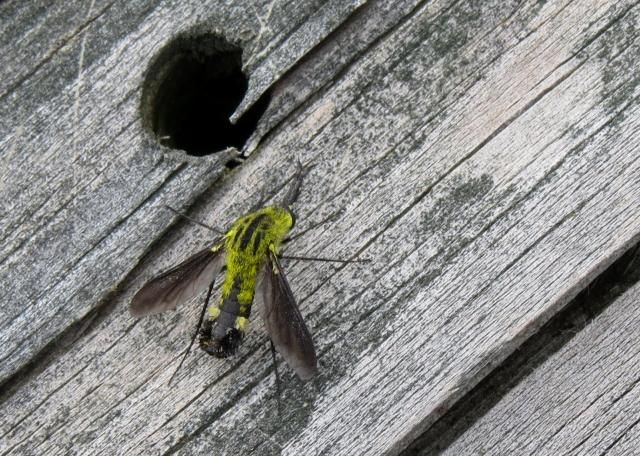 Scientifically this fly is labeled Lepidophora lutea; meaning "yellow scale bearer" or something like that. This is a good name. Even the wings have a light coating of buttery-hued scales. It is a much better name than "the stupid fly that mistakes people for flowers."
Back on the shore I came upon a robust fly of a very different sort (see above). It was a Robber Fly in the process of draining the life out of a tiny moth. Unlike the humble Bee Flies, Robbers are aggressive predators. They tackle flying insect prey with stout legs and then inject them, via a blade-like proboscis, with toxic spit. This fluid paralyses the victim and liquefies the organs so that the fly can leisurely suck out the mix like a McDonald's shake. The flavor of the hour in this case was a diminutive moth called a Small White Grass Veneer Moth (see below).
All of Robber flies share a generally hairy look and often possess a "Snuffy Smith" mustache of sorts bordering the lower face. Their maggots are predatory (in other words "not cute"). Like all flies, the adults have only one pair of wings. The second pair are reduced to tiny clubs called halteres (look closely under the wing in the first picture below). These organs rotate about when the creature is in flight and act as gyroscopes.
There are thousand of species of Robber flies in the world. Based on cursory investigation I'd say this particular life-stealer was a female member of the genus Machimus. The Greek origins of the genus name refer to "war-like" or "soldier" depending on how it's used. There was a city in Greek legend called Machimus which was populated by huge warrior people and Machimus was one of the 50 dogs that attacked and ate the hunter Actaeon after he was turned into a stag. You see he accidently came upon a bathing goddess and saw here naked and…forget it. Greek stories are far too complicated to explain here, so let's leave this discussion where it lay.