Second nature: something that should be natural and easy to do –such as a short piece on a small subject based upon a few moments of nature observation. Get it? Second, as in part of a minute, and…never mind.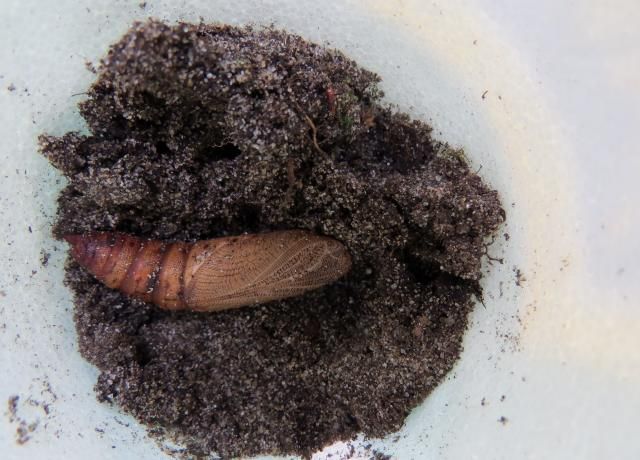 You may recall my blog from a couple of installments ago in which I told the riveting details of my encounter with a Leafy Spurge Sphinx (a new species in Michigan). O.K., so it wasn't riveting – I merely picked the thing up as it was crossing a Northern Michigan road. The only riveting part was when a truck nearly ran it over before I could nab it. At the time of writing I mentioned that I would await the coming pupal stage of this beast as the next point of interest in this story. Well, he has finally "taken the plunge" and I am duty-bound to bring you up to date.
Safe within the confines of its high-tech enclosure (a coffee cup partially filled with sandy soil) the caterpillar shed his colorful skin and converted to an intricately patterned pupa. It tunneled down about an inch and created a chamber whose walls were held together with a loose mat of silk before performing the transformation.
The pupa retains the caterpillar's horn and spiracles (breathing holes), but otherwise displays – via outlines on the exterior of the casing – the new look it will have as a sleek adult. Large compound eyes sit opposite on a well-defined head. A long tongue has replaced the chewing mouthparts. Destined for sipping nectar from tubular flowers, the tongue appears down the center along with the two linear antennae. Both are framed between the leading edges of the folded mini-wings. The sixteen legs of youth have been reduced to six and they are neatly aligned with the tongue and antennae.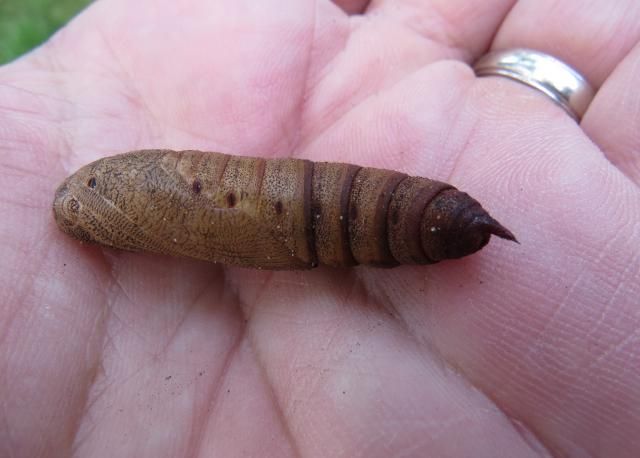 Inside this simple casing a remarkable transformation is occurring. The muscles of old are dissolved and re-created to serve powerful wings, tongue, and legs. Evidence that the abdominal muscles are already functioning, the creature wiggles freely when handled. This, of course, makes for riveting footage (see here) but we'll have to wait until next spring before the final exciting chapter in this metamorphosis takes place. This thing is more moth now than caterpillar – straight and peaceful (unlike Darth Vader).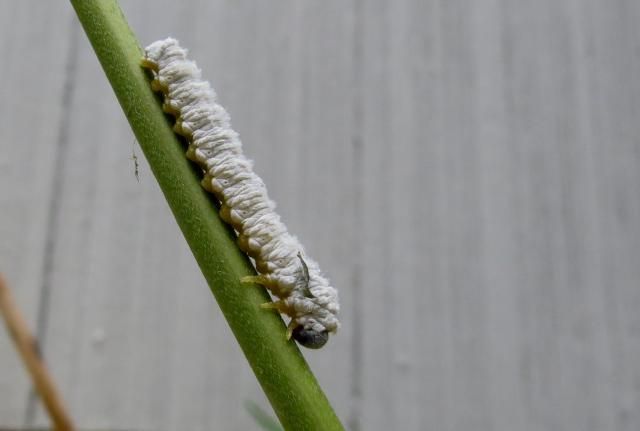 On the subject of non-caterpillars, Dogwood Sawfly larvae (see above) are chewing away at the refugee Gray Dogwood sapling next to my house. Although they look very caterpillar-like they are very not (odd wording, I know, but I'm sticking with it). Sawflies are closely related to bees and wasps and the adult stages bear this out. The larvae are plant eaters that live and eat like caterpillars and therefore have adapted like traits and appearances. There are a few distinctions that separate them from moth/butterfly (let's call them lepidopteron) larvae, however.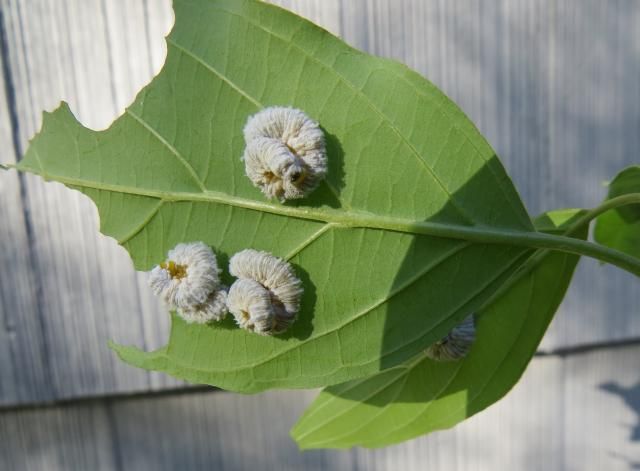 Sawfly larvae have a solid head capsule with two prominent eyes, whereas lepidopterans typically have three sets of tiny eyes and a divided head capsule. The leps have only four sets of fleshy legs in the center of their body and the sawflies have six or more pair. Even though some caterpillars are colonial, Sawflies are always colony feeders so you rarely find just one.

Members of the family have the unusual habit of raising their hind ends when disturbed – as if to say "my butt to you." The Dogwood sawflies take this to such an extreme that they actually curl up like miniature cinnamon rolls. Younger stages of this species, such as these examples, are covered with a waxy down.
These little fellows will lose that downiness and take on a smooth stark black and yellow skin as they approach their last stage of larvalhood. Like the sphinx moth they will burrow under the ground and overwinter as a pupa. Both the Spurge Sphinx and Dogwood Saw Fly will spend the winter as un-caterpillars:  one as a "never was" and the other as a "used-to-be".