It was only after the mink disappeared under a tree root that I re-directed my attention to a trio of Mallards across the river. They were clear enough to see, but in the world of nature study Mallards are not normally on the top of the list. This is not a good thing, but it is a thing because familiarity breeds, if not contempt, at least complacency. These fine fowl were standing unsurely on a submerged branch as the current of the swollen Huron River rushed past them.
Backlit by a strong morning sun, they were on high alert with nervous heads bobbing atop extended necks. Actual wild mallards, not frumpy farm fowl, they were ready to bolt at the sequential exposure to a mink and man! Fortunately they hung around for a frantic minute before exploding into flight.
These male birds were perfect examples of the teenage type (due to plumage and not erratic unexplainable behavior). Juvenile birds offer some interesting plumage combinations as they transform into adulthood via a time-honored schedule. It is not a random process. Because it occurs relatively quickly, however, it is a minute phase of the natural year that is often overlooked.
Earlier in the month the ducks bore the brown mottled plumage of youth and were now in the late September mode of wardrobe change. At this stage the mottled breast feathers are mostly replaced by the deep russet tones of drakehood and most of the back and shoulder feathers have already converted over to light gray. It will take a while before they attain the distinctive black curly feathers on their fully mature bottoms, but they already exhibit a manly looking yellow bill.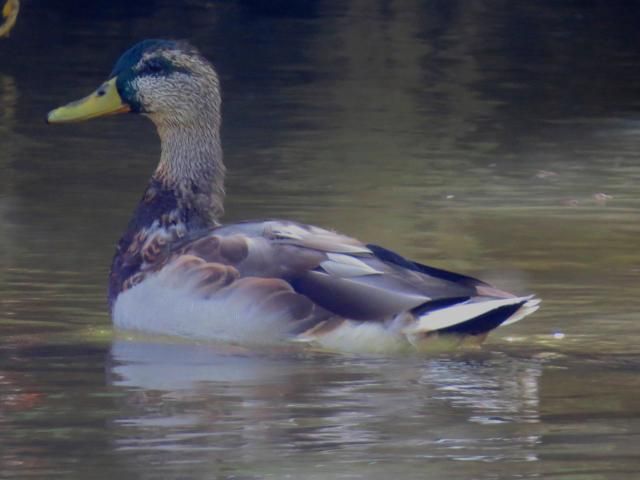 The green portion of the head, that part which gives the species the common name of "Greenhead," is but a simple crescent lying between eye and beak as of early fall. As the season progresses, this patch migrates from front to back until the entire head becomes iridescent green by winter. You will see some Mallards which have an overall spotty green head ("scruffy" by some definitions) and these would be the adult drakes recovering from their late summer eclipse plumage. Adult Mallards undergo two molts per year.
The subject of molting is a big one in the bird world. For these juvenile males, the act of changing feathers involves a heavy physiological workload. Being mostly protein, feathers make up around 1/3 of the entire body protein of the animal. Therefore, feather-growing requires a substantial intake of protein rich foods. Add to this burden the need to put on an extra load of fat for migration and you have birds that can afford little time for leisure.