Box elder bugs are year-round insects but we don't usually notice them until the "witching season" in late autumn. At that time they gather around the cracks and crevices that will eventually become their winter home. Until freezing temperatures force them to descend into the deepest recesses of their hibernaculum (that's "scientific" for winter hibernation chamber) they pretty much spend all their time sun-worshiping. The low morning sun is especially relished.
I have a cedar shingled house offering plenty of potential hibernacula. The entire east side is bathed by the rays of the morning sun on early bright fall days. You could call it a Box Elder Bug palace; although I doubt that particular phrase would enter into the realtor's description should we opt to sell the place as we enter the autumn of our lives.
The Box Elder B's greet the sun with a collective sigh of relief – clustering into small social clubs where they talk about how much life sucks. As sucking insects this topic is a positive one. In the spring they will emerge to feed on seeds and low plants until the local female Box Elders trees (or occasional maple) come to flower. There they will suck Elder sap and raise new little suckers.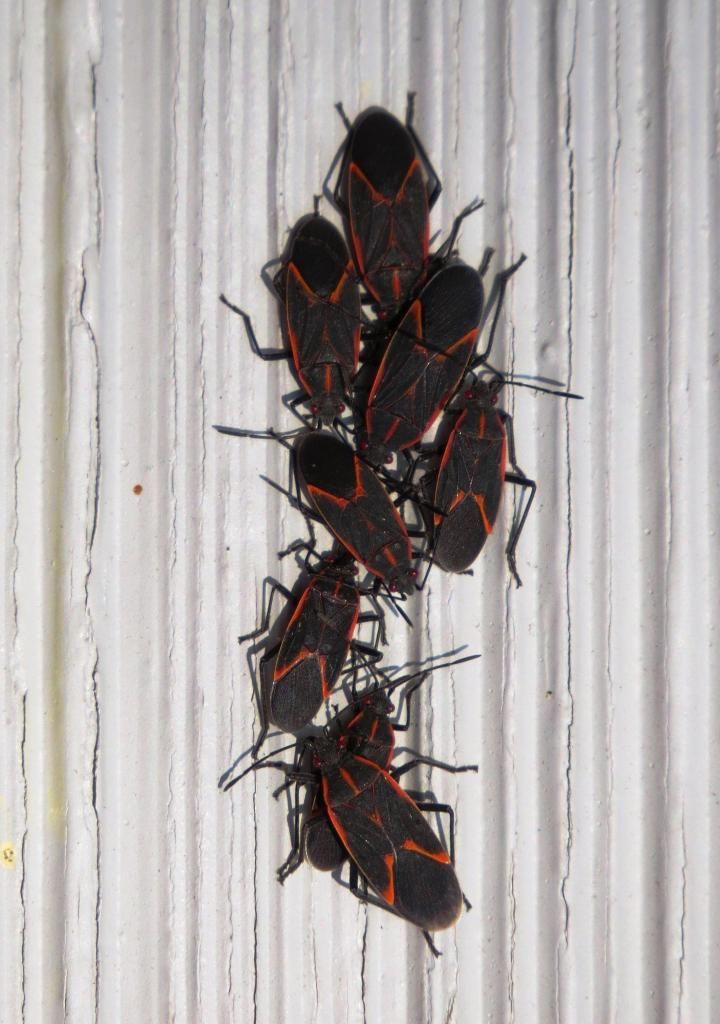 The only question remaining for the next year's elder Box Elder Bug population is what to call the new Box Elder Bugs they create. Should they be called Box Youngling Bugs or perhaps Box Baby Bugs in order to separate them from the older and wiser winterers? Fortunately this never poses a real problem because the elder Box Elder Bugs die before they can gather into focus groups.
We superior humans, of course, know that this is a stupid question because the plant is called Box Elder not because it is older than the rest but because, um, well … because of… Oh, yes because the wood resembles that of the Boxwood tree and the leaves that of the Elder tree. And we ALL know that Elder trees are guarded by witches and, according to an old European chant ("And I myself an eldern tree") some are actually witches themselves!
Silly insects, they believed that they were feeding on witches' blood all summer but were actually taking in fake witches' blood. As half-wing insects (true bugs are hemipterans), it could devastate the other half of their lives should we let them in on this devastating secret. I for one do not want to listen to the collective sobs of a million Box Elder Bugs through my wall all winter long.