One of the un-expected sights of late fall, framed within the background of burnt umber oak leaves and the lemon yellow Tamaracks of Northern Michigan, are baby snapping turtles. Such a thing really shouldn't be unexpected, however. It is true that most baby snappers emerge in late summer and early fall, but a substantial number don't surface until very late in the season. Some, in fact, overwinter inside their eggs and hatch the following spring.
I guess it's all about counting backwards. It takes 11-12 weeks of incubation to produce a hatchling turtle. Snapping Turtles females do not attend to their eggs after they are laid so the incubating is performed by Ma Nature and the warmth of her soil. The peak time for adult snappers to lay their eggs is in June (at least in Southern Michigan), but individuals will lay their clutches throughout the summer. Those depositing their eggs in the latter part of August are responsible for the late autumn crop of young snappers. Those who opt to choose later dates (if a wild animal can be said to "opt") will produce either frozen little turtles or spring babies.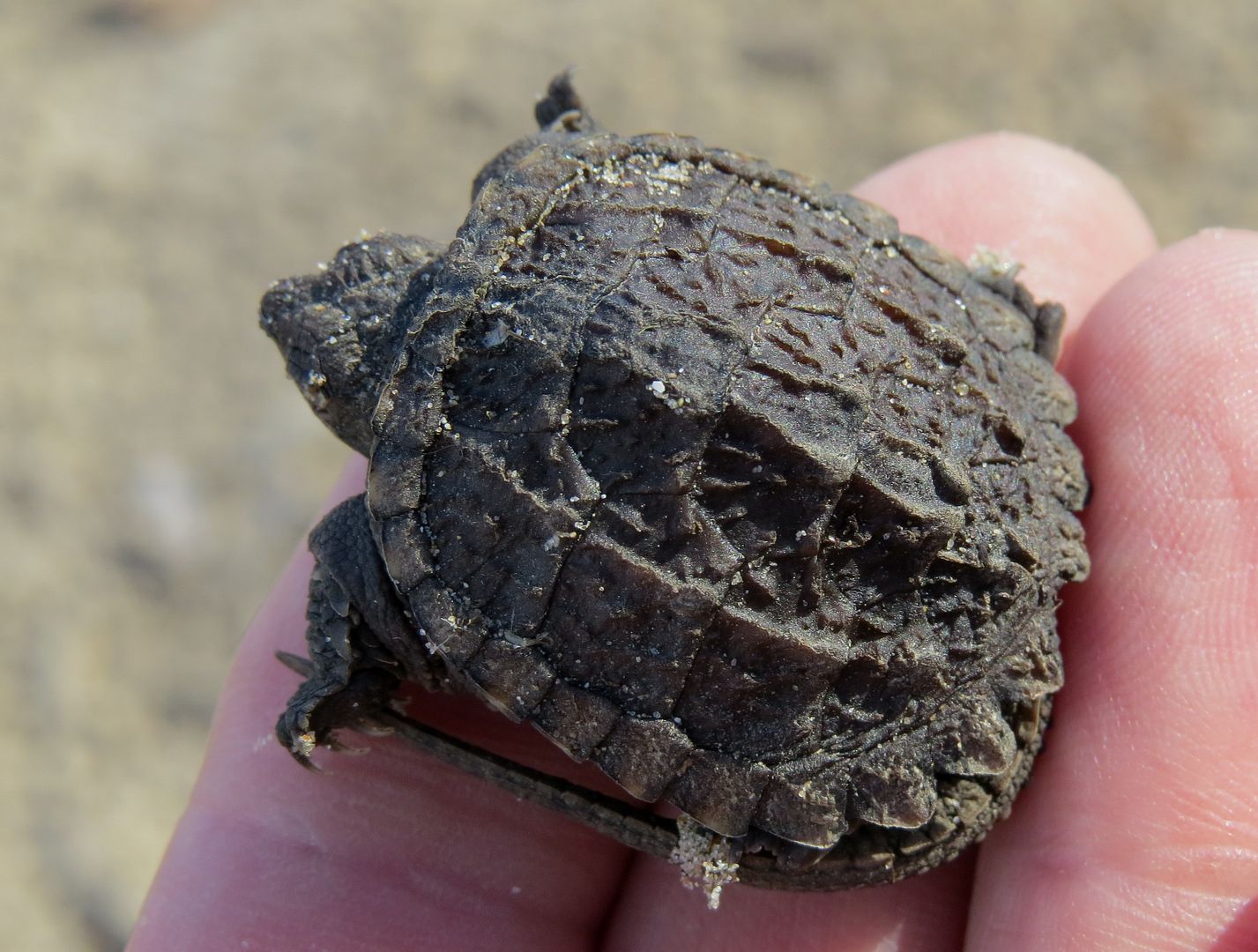 On two consecutive late fall weekends up north, I encountered hatchling snappers. One was lingering in the shallows right at my dock on Dollar Lake and the other was traversing across a sandy hill, headed for the water, in Alpena. Hatchlings like this are distinctive due to their finely sculpted little shells – still soft and pliable at this stage – and their extremely long tails. No other native turtle comes close in the tail length department. I'm guessing this was evolution's way of making up for the embarrassing lack of bottom shell on this species.
All hatchling turtles have a belly button – an umbilical scar indicating where the egg yolk was formally attached. This scar eventually disappears as the scutes of the plastron (lower shell) converge on the growing turtle. In other words, adult turtles do not have belly buttons but babies do – which could make for an interesting true/false question if you wish to trick someone or simply want to be an intolerable pain in the asterisk (just ask "do turtles have belly buttons?" A "No" or "Yes" answer would be equally wrong without explanation). My backyard turtlelet, as well as the sandhill individual, had fresh umbilical scars. They were both about the size of the egg from which they had recently escaped, which was about 1 inch in diameter. Most importantly they both still retained their egg tooth.
Take a good look at my pictures and you'll notice the egg tooth as a whitish bump located just under their pig-like noses. It gleams like a date night pimple. This temporary structure is believed to assist the emerging turtle to cut open the leathery skin of the shell when hatching. Made of keratin (the same material that constitutes the tough body scales) the egg tooth drops off soon after the hatchling enters the big world.
Both of these little fellows are to be celebrated because they have successfully beat the odds so far. Sometimes nearly 90% of a yearly crop of snapper eggs are destroyed by raccoons, skunks, and other nest predators. Hatching is only one of the hurdles that a baby turtle has to clear on the way to adulthood. Since their parents can lay eggs as far as a mile from water, their young must undertake a dangerous overland trip to the nearest water. Crows, foxes, coyotes and all manner of beasts will eat tender young turtles. Even in the "safety" of the water large fish, herons, and even muskrats will feed on the turtles as long as they remain small and their shell soft. Once passing through this initial gauntlet, the rest of a snapper's life is relatively free of trouble save for automobiles and turtle trappers. At this point they have the potential to turn the predation tables around, although they actually tend toward the herbivorous side of the scale.
My Dollar Lake snapperlet had reached the water on its own by the time I found it. I returned it to the water after subjecting the patient beast to a series of fashion shots. My Alpena hatchling was walking over a patch of open sand and was about as exposed as a turtle could be. The surrounding sand was littered with turtle shell pieces which had been scattered over the surface by nest robbing raccoons. I could not resist posing a fake hatching picture, shown below, before I was finished. Call it artistic license. The actual egg shell remains below the surface within the old nest.
Just to set your mind at ease, I did deliver the creature down a substantial hill to the river before leaving. I've no doubt that the next time we meet this belly-buttoned Snapper will be more than happy to bite the hand that once helped it. I would expect nothing less.