I spotted a group of Wild Turkeys sneaking about the back woods of a Grand Rapids condo complex on Thanksgiving Day. Although they are totally unaware of the significance of the day and its deadly consequences, they somehow looked more worried than usual. That, of course, is purely a figment of human imagination. As a responsible naturalist, I suppose I should go on with this thread and discuss the importance of the turkey in human culture etc. etc. but I am not feeling responsible at this moment (perhaps it is the dose of triptipaine, or triptoknick-nack, or whatever you call it, that comes from a thanksgiving turkey meal).No, I feel like talking about turkey poo.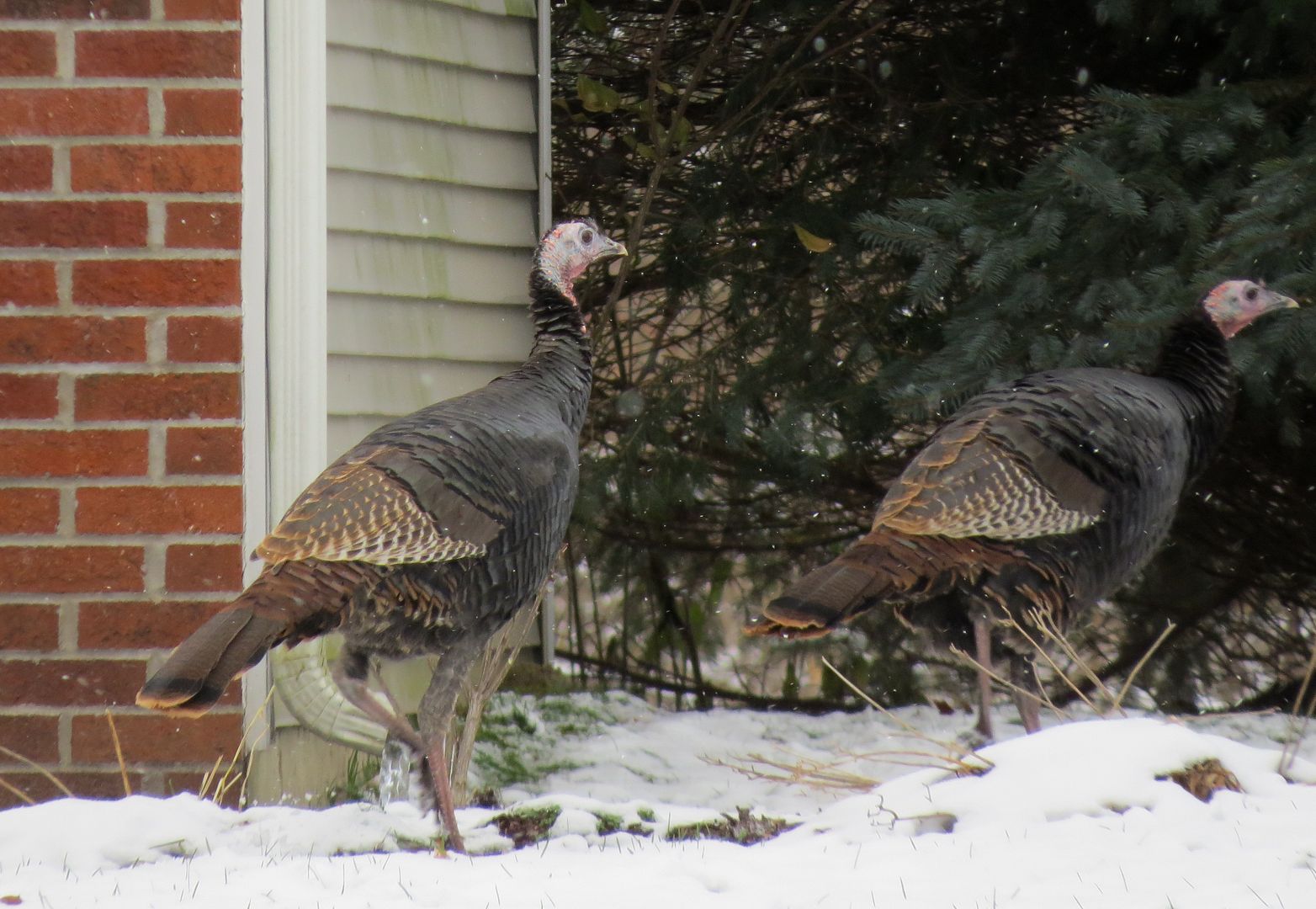 There were several specimens of the kind lying about the place for examination. Unlike their creators, these subjects sat very still for their portraits. As even marginal wild Turkey enthusiasts will tell you, the sex of an individual depositor determines the shape of its deposit. In other words, hen poo is different from gobbler poo. Gobbler and Jake (young males) droppings are "J" shaped while Hen or Jenny (young females) droppings tend to be spiral or just plain piled.
Unfortunately this is not an exact science and it leads to some interesting descriptions when discussed. For instance, male poo is also labeled as "walking cane" or "straight" shaped and females as "curly cued." One website gets it a_ _ -backwards and attributes the "J" terds to the females. While it appears to be a fact that there is some sexual differentiation in Turkey feces, there is enough gray area between curly cue and j-shaped to create confusion. Diet also determines appearance. A bird eating lots of fruits and green plants will lay down a shapeless poo pile that would make any diarrhea ridden yip-yap dog proud. A good "fun fact" needs to be black and white, but nature rarely allows this. So, in this case it is best to use phrases such as "tend to be" to cover your own a_ _.
It is even funnier to track down some of the explanations offered to explain the difference between gobbler and hen poo. I offer these as someone who does not truly know himself, but is smart enough not to attempt one. One published account basically claims than hens have bigger butts – stretched out from egg-laying -and this creates less constriction and thus looser lay-downs. Given that hens don't deposit their eggs through their poop chute, this is a problematic theory at best. Some claim that the gals wait longer between "deposit events" and therefore make larger creations when they do doo. The males, on the other hand, just let it go whenever and wherever they feel the need. They also claim that the males perform a little dance when finishing off their pooping event – like putting that final swirl on a soft-serve cone.
Again, allow me to state that I don't really know anything in this fecal matter, but I would suggest that the latter explanation is wrong because turkey droppings, like all bird droppings, are pee-poop packets. Bird droppings are both No. 1 and No. 2 combined into a neat (or not so neat) package. The white part of the dropping (the uric acid or pee part of the dropping) comes out first as far as I know. This is the part that creates the curl when present. Unfortunately for the "dancing gobbler" school this means that a final twist of the rear would create a curl in the solid, darker portion of the poo – not the white portion. If slow motion photography shows a gobbler doing the dance during the initial, rather than the final, phase of deposition, then I will stand corrected in this matter.
I do believe that I've irresponsibly beaten this topic into the ground sufficiently to cut it off with a little dance step myself. I can not claim that the turkeys I photographed had anything to do with these droppings because they were old examples and because the birds in question were hens. I leave you with two poo portraits which I would claim to be male deposits – one due to its straightness and the other to its J-hook. Either way, however, this is good sh_ _.