The Christmas season has gotten me in the mood to talk about things hanging on trees. Un-natural tree ornaments abound in the form of Christmas tree decorations inside and gaudy light creations draped on yard trees outside. We don't do the yard light thing at our place, but we do tend to put quite a few atypical ornaments on our Christmas tree. I am constantly reminded on how unusual some of them are. For those raised within the low oxygen atmosphere of our family they make perfect sense but for those "outside" this tradition they invoke odd questions. For instance, I don't know why everyone doesn't have a few squirrel chewed walnuts or miniature muskrat skinning boards (decorated as Santa) hanging on their tree.
This year, my son-in-law had the audacity to ask my why we had a badminton birdie as an ornament. My silent reaction was one of slight shock – as in "and you ask this why?" Fortunately I recovered in time to explain that, first of all, this was a vintage badminton birdie of the type that used real chicken feathers as opposed to the modern plastic fringed examples, but seeing that was equally inexplicable I went on to explain that it looked like a shooting star – or the Star of Bethlehem. That worked.
In nature, ornaments of all types are evident. Like the birdie they require some explanation to achieve appreciation. Oak Bullet Galls and Bagworm cases are two good examples.
Rough Bullet Galls are the creations of a tiny big-butted wasp labeled with the tongue-twisting name of Disholcaspis quercusmamma (a species name literally meaning "oak tits"). They afflict Burr Oak Trees. The galls are clustered, woody, and acorn-like with pointed tips. Some trees are covered with these structures and retain them for years. Most of the winter galls are punctured by a neat little hole indicating that the adult insects have successfully pupated and emerged.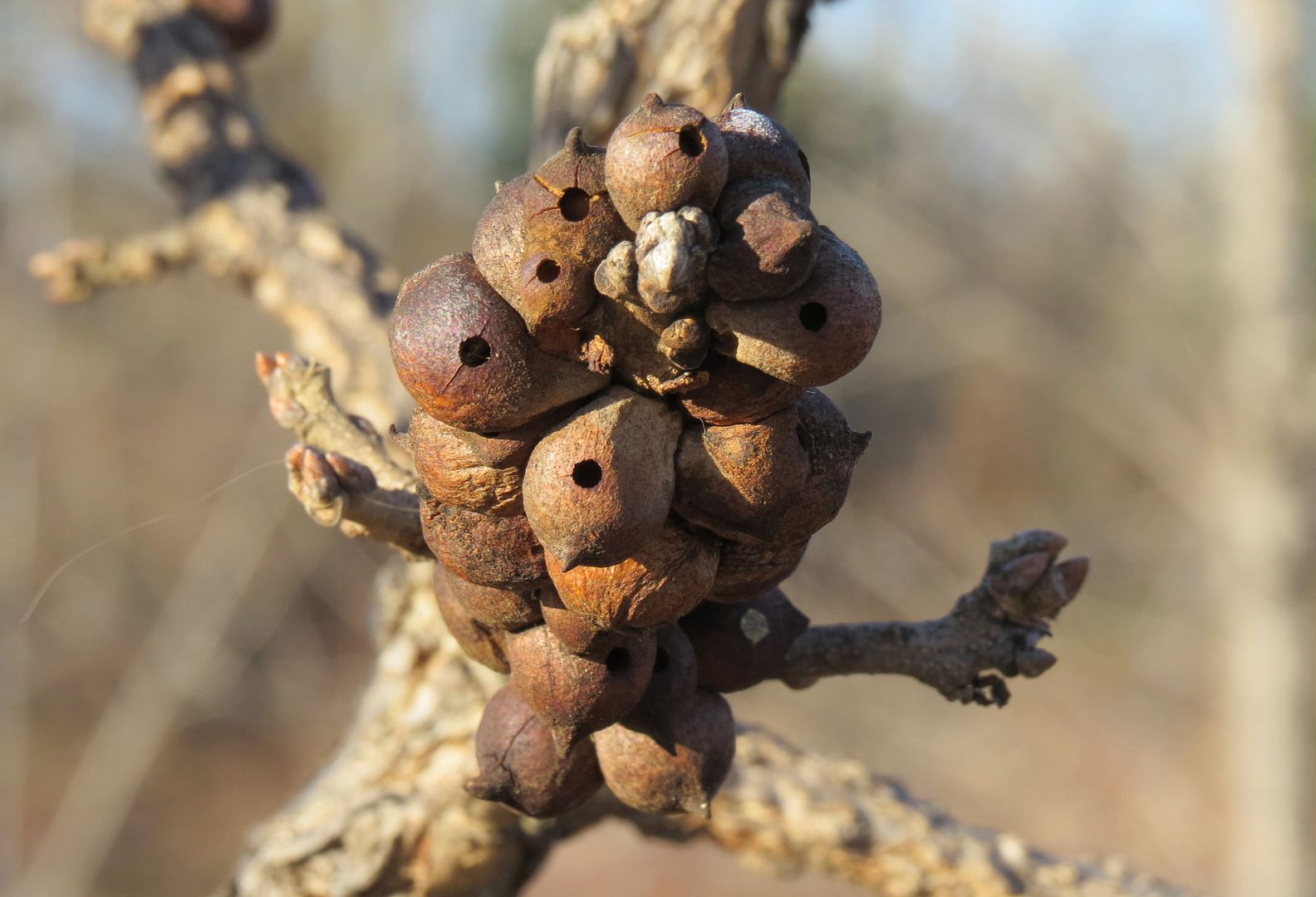 The simple version of the gall wasp story is that they chew their way out in October or November, seek out the winter buds, and lay their eggs on them. The larvae emerge the following spring and their activity stimulates the tree to form a new gall which grows larger over the course of the summer. The more detailed version of the story is slightly odder. Wasps emerging in the fall are all female. These gals produce their eggs without the benefit of male intervention (a horrid thought if you are a male reader).
The final details of this story have only recently been uncovered by researchers. Apparently they've discovered an alternate generation in which both males and females are produced. These sexual forms issue from little galls, mate, and proceed to lay their eggs in the usual fashion. So, you see, Oak Tit galls offer much more than their initial appearance would suggest.
Bagworms offer yet another ornament with a story. Winter bagworm bags fall into two categories: empty ones, with pupa casings sticking out, and those containing egg clusters. I present a single example here which I can confidently say was built by a male Bagworm. The bag itself was constructed out of cedar scales by the developing larva as it fed upon the leaves and this structure served as a mobile retreat until late last summer. At that point the creature secured the thing to a branch with stout silk lashings, reversed direction to face downward, and split its skin to form a pupa.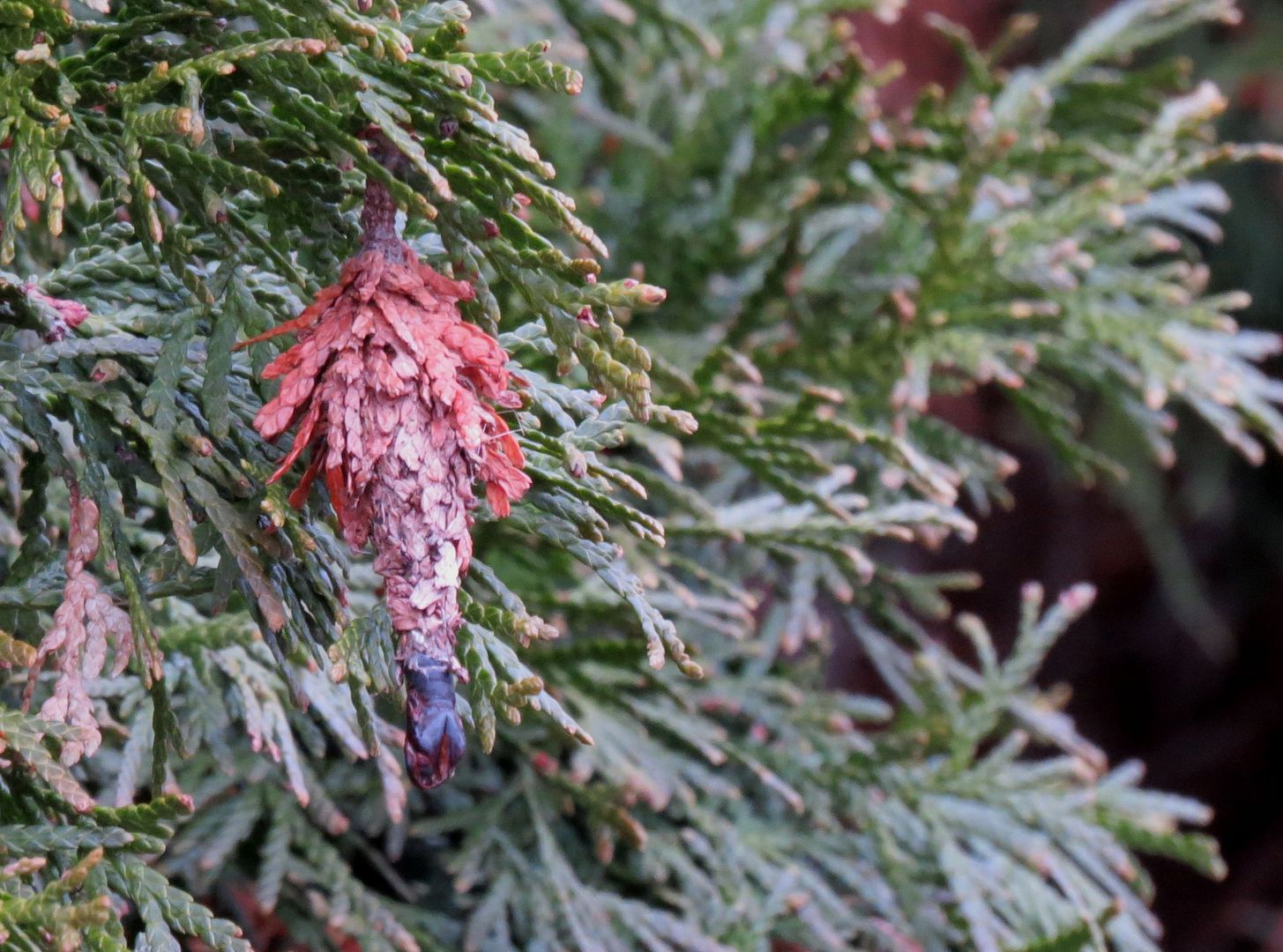 Look carefully at the lower end of this bag and you'll see the empty skin of the old pupae sticking out. The resident emerged sometime in September or Early October and sought out a female.
Female bagworms never leave their bag immediately after pupation due to the fact that they are wingless. In fact, they are among the ugliest of natural females with no eyes, no working legs, and no functional mouthparts. Grub like and pale, they have an odd fringe of glossy "fur" around the terminus of their ample bottom which adds absolutely nothing to their appeal. Male Bagworms locate the females and mate with them through the opening at the bottom of the bag. They never actually see their mates and this is probably for the betterment of bagworm fertility (no jokes about bag ladies here). The impregnated female eventually lays her load of eggs inside the bag and dies. Usually she crawls out and drops to ground to complete her unglamorous life.
Two natural ornaments, two fascinating life stories that would make even an antique badminton birdie blush.